Hydrotherapy
Leading Edge Physiotherapy Aquatic Therapy from Grant Fedoruk on Vimeo.
Leading Edge Physiotherapy is pleased to offer aquatic therapy (hydrotherapy) in St. Albert, Alberta.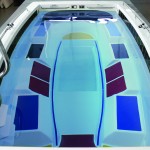 If you have sustained an acute or chronic injury, undergone surgery, sustained a non-operative injury, or are in pain and would benefit from a reduced weight bearing or more comfortable environment for your physiotherapy, then our Integrated Hydrotherapy treatment program may be indicated.
Why Leading Edge Hydrotherapy?
Aquatic therapy takes advantage of the physical properties of water, especially buoyancy. When submerged in water buoyancy supports a patient's weight which facilitates exercise without the compressive loading forces present with routine land-based programs.
Benefits of aquatic therapy include a patient's ability to reduce joint and soft-tissue swelling from the natural pressure of water. In addition, the viscosity of water and aquatic therapy allow a patient enough resistance to strengthen muscle.
Aquatic rehabilitation reduces the amount of stress placed on joints so it is especially well suited for patients who are in pain and are weakened due to an injury or disability. The decreased joint stress enables patients to exercise more easily and with less pain.
We call it an integrated program because our professionals are a team of physiotherapists and kinesiologists and/or fitness professionals who utilize both a dry land approach and pool therapy to achieve optimum performance.
What makes our Leading Edge Swimex Pool different?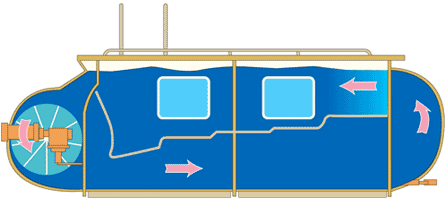 The heated pool's controlled-speed water current allows patients to swim continuously in a 'static' setting and to exercise in moving wall of water (when indicated). The pool is equipped with depth adjustments, workstations, controllable speed water current and observation windows. We are able to exercise our patients in a temperature controlled environment that allows for more flexibility and a reduction in pain associated limitations.  We are able to assess their movement through portals and have them begin gait activities much sooner than would be achieved on dryland.
The resistance, hydrostaic pressure and propriception provided by the heated moving water stimulates muscle contraction patterns, making this form of aquatic therapy an excellent tool for treatment of low back pain, neck pain, as well as for the complete range of orthopaedic conditions including joint replacements and reconstructions.
As the water current can be progressed from gentle to vigorous, it is suitable for elite athletes as well as the elderly and can be used from early post-operative treatment to the final stages of athletic conditioning as well as cross-training for injured athletes. Observation windows enable poor movement patterns and instabilities to be identified and corrected.
Multiple depths and work-stations offer diversity which other pools do not. The water flow extends smoothly and evenly across the exercise area and its laminar flow resistance extends for almost 1metre below the surface. Total body applications can be achieved and the current flow can be used to resist or assist movements, depending on the requirements.
What are some of the conditions that can respond to your Swimex Hydrotherapy Pool?
Recent research has shown that when combining aquatic therapy with land-based therapy, the patient's flexibility and self-reported functional outcomes were more improved when compared to traditional land-based treatment alone.  (Gulick D. et. al., Journal of Aquatic Physical Therapy, vol 15 #1, Spring 2007.)
SwimEx aquatic therapy is beneficial in treating many conditions, including: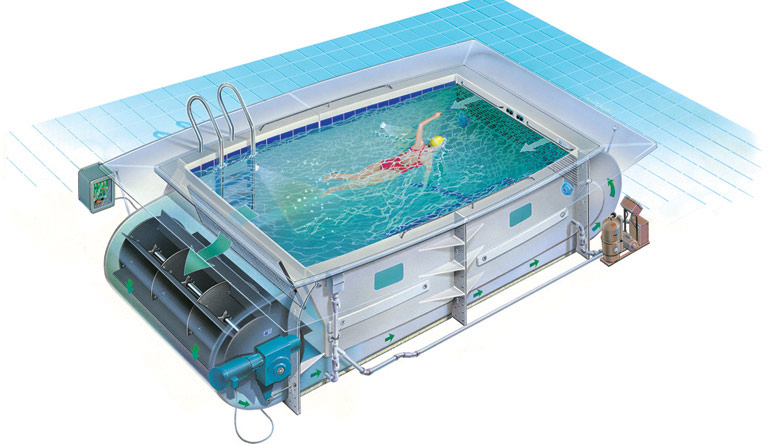 Orthopedic injuries
Total joint replacement (total knee replacements, total hip replacements, shoulder replacement surgery)
Athletic Injuries
Musculoskeletal Disorders
Balance Disorders
Pediatric Injuries (Fractures, sprains, strains and issues that reduce weight bearing capacity)
Spinal Conditions (Herniated discs, degenerative disc disease, stenosis)
Chronic pain
Multi-trauma
Arthritis and Fibromyalgia
Neuromuscular Disorders
Many professional and college sports teams are utilizing Swimex Hydrotherapy to gain an edge on the rehabilitation process. Look who else is using Swimex!
Atlanta Braves
Baltimore Ravens
Boston Celtics
Boston Children's Hospital
Boston College
Boston Red sox
Boston University
Buffalo Sabres
Carolina Panthers
Chicago White Sox
Detroit Pistons
Florida Marlins
New England Patriots
New York Yankees
Pittsburgh Pirates
Philadelphia 76ers
San Fransisco Giants
University of Maine
University of Connecticut
University of Florida
U.S. Army
If you have any questions about our Integrated Hydrotherapy service, please contact us today!