Jordan Stogryn
Back to All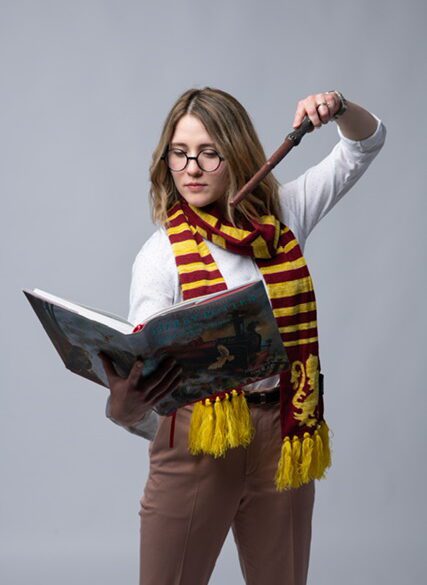 harry potter… hermione granger… they don't have the magic this physio has
training
Physiotherapist
Bachelor of Science in Kinesiology, University of Calgary – 2014
Masters in Physical Therapy, University of Alberta – 2018
Canadian Physiotherapy Association Orthopedic Division CPA Level 1 – 2018
Functional Dry Needling (Kinetacore) – 2019
Pelvic Health Solutions Level 1 & 2, Pelvic girdle pain/pregnancy – 2021
AA1 and AA2 Medical Acupuncture Accreditation, Acupuncture Foundation of Canada (ACC) – 2022
Gunn IMS Certification – 2022
personality
Jordan has always had a passion for sports and helping others. Becoming a physio for Jordan meant having a career that let her learn and grow constantly, all while being able to treat athletes and others who need her help. She enjoys treating all types of injuries, such as sprains, strains, sports injuries, but has special training in Pelvic health. She found her love for physio after years of treatment and constant injuries from dancing. While her Bachelor's and Masters degree may seem impressive, her talents lie in golfing, acting as sous chef to her husband, polishing off a glass of wine with friends and taking care of her 2 dogs. She is well cultured which is obvious if you understand her obsession with the Harry Potter series! If she could meet any one person, it would definitely be J K Rowling. She is a fun and exciting addition to Leading Edge's family, all while bringing care, attention, focus and some Hogwarts magic to her patients.
Favorite books – the entire Harry Potter series, but specially book 6, the Half Blood Prince.
Music – country music above all, but she'll listen to anything as long as she can dance and sing the wrong lyrics.
Movies she loves – The Grinch (with Jim Carrey), no matter the season.
Favorite activities – golfing, dog park walks, cooking, novice gardening, dancing, slogger (ahem – slow jogger)
Physio nickname – Jord or Jordo.
What her physio assistants say about her – "a weirdo but has good style"
Did you know? – she has 2 dogs, Copper and Lucy
Clinical pet peeve – when someone takes half a doughnut, completely unacceptable!
Super human trait – her talents lie not in speed, not in strength, but in the ability to make a wine bottle vanish in the blink of an eye.
Community connections –  Dynamyx Gymnastics Center
edge
Jordan grew up in Grande Prairie where she took an interest in dancing and spent a good portion of time in the physiotherapy clinic because of it. Whether it was knee or back or foot pain, she was impressed by what the physios were able to do to reduce her pain and get her back in dance class and ready for performance. After graduating high school, Jordan moved to Calgary where she graduated with a Bachelor of Science degree in Kinesiology (2014), worked for a year as a kinesiologist in a physio clinic and enjoyed group fitness instructing. She then continued on to the University of Alberta (downtown Calgary campus) to complete her Masters of Science in Physiotherapy graduating in 2018. She started her physiotherapy career in Calgary and then moved to Edmonton shortly after. It was fall of 2020 when she found Leading Edge and became a part of our amazing team. Since joining, Jordan has been hitting the books hard. She has garnered her advanced credentials in Pelvic Health Management, certification in acupuncture from the Acupuncture Foundation of Canada and certification in the practice of Gunn Intramuscular Stimulation from the University of British Columbia. She is truly a Leading Edge therapist as she shares our values of bringing advanced skills and training to each and every patient who cross our threshold. Jordan enjoys treating a wide variety of conditions and injuries, not to mention a wide variety of personalities. She is excited to meet you and be a part of your journey!
Request Appointment
Listen: On Type 1 Diabetes with Guest Charlie and Ray Davidson

In today's episode, we are privileged to have special guests Charlie and Ray. Charlie, who has been managing Type 1 Diabetes since the third grade, ...

Read More

Listen : On Food for Thought with Guest Kristine Kowalchuk

Join us today with our special guest, Kristine Kowalchuk. The inception of Food for Thought traces back to a single newspaper article that resonated ...

Read More

Listen: When You Survive a High Speed Head On Collision – with Guest Christine Schneider

Join us today as Christine Schneider recounts her harrowing encounter with a head-on collision on an Alberta highway. Following the incident, she was airlifted ...

Read More

Listen: On the Pilgrims Hospice with Guest Monica Robson

In this episode, we are privileged to engage in a conversation with Monica Robson, shedding light on the Pilgrims Hospice, with a specific focus ...

Read More

Listen: On Strokes with Guest Patient Darren Crichton

In this episode, we are fortunate to engage in a conversation with Darren Crichton, who shares his profound experience of surviving a stroke. During ...

Read More