Vestibular Rehabilitation
Back to All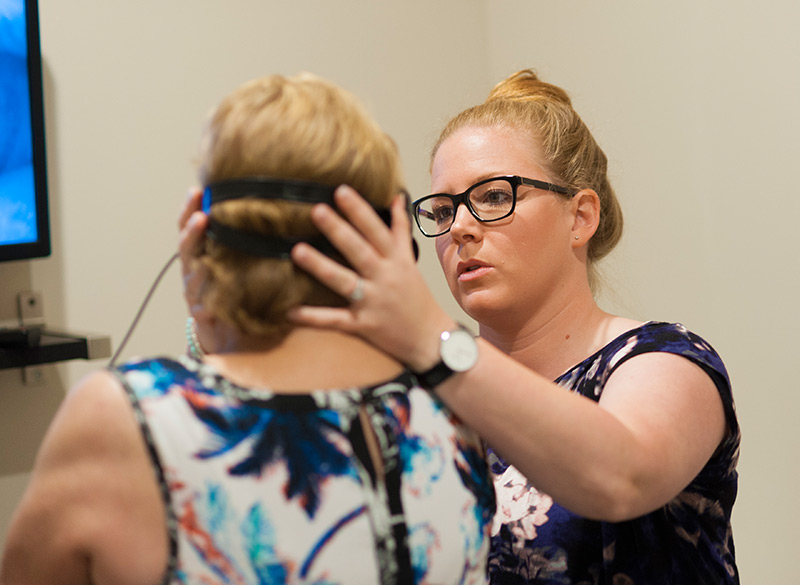 Available at Royal Glenora, St. Albert, Windermere, Old Strathcona, and Capilano Rehabilitation Centre locations.
---
life doesn't have to be dizzy
Leading Edge Physiotherapy is pleased to offer vestibular rehabilitation for those patients suffering from balance disorders and dizziness in Edmonton and St. Albert.
Bam… Out of nowhere a person can often be confronted by the scary feeling of not knowing what is happening in their head. Their world is literally turned upside down. Beyond disconcerting, this unusual feeling can also impact our lives in a massive way.
Simple activities like getting a haircut, rolling over in bed and going to yoga create havoc in their brains and its ability to sort out the world. It can lead to many outward consequences from nausea and vomiting to falling over.
Dizziness is one of the more common complaints among clients that enter the typical medical clinic. It often proves difficult to determine a diagnosis and appropriate treatment plan. This is not surprising given the time required to tease out the true nature of these symptoms and to conduct the differential diagnosis given the multitude of potential sources associated with dizziness. The result is that a large number of these cases are referred on to specialists like Otolaryngologists and Neurologists to review and manage. These referrals can often result in a diagnosis of one of a variety of peripheral or central vestibular conditions that do not require additional surgical or medical management.
Conditions such as vestibular neuronitis, labyrinthitis, and benign paroxysmal positional vertigo (BPPV) are the more common diagnoses that may fall into this category.
The Leading Edge Approach:
In the cases of BPPV we use a very mechanical approach to examination and treatment that has been found to be exceptionally effective in resolution of the associated signs and symptoms. Most professionals are familiar with the typical Hallpike-Dix test and Epley maneuvers that are often associated with the management of these conditions. However, there are potentially 12 different presentations of BPPV. As much as the above approach is effective for the more common forms of BPPV, different techniques are often necessary for management of the other presentations. These are often the cases that sound like a BPPV but do not present with positive Hallpike-Dix tests or seem resistant to the typical treatment approach. Our therapists have specialized training and experience in identifying and effectively managing these exceptional cases, as well as the more common ones, using a variety of techniques and technology.
In those cases that involve an insult to the peripheral apparatus or nerve we take a very different but also very safe and effective approach to examination and treatment. A large number of these clients do find spontaneous recovery following an insult to the peripheral vestibular apparatus with effective central compensation. There are, however, a large number that require specific additional training to assist this process. Treatment is then tailored to the specific deficits identified on examination and is primarily exercise based with a focus on developing central compensation and optimizing the effects of neuroplasticity. This can often include dysfunctions of sensory organization, vestibulo-ocular reflex gain, static and dynamic postural stability, and motion sensitivity, among others.
Our first priority in the examination is the screening of vascular and neurological structures as well many as conditions potentially requiring immediate medical attention. Our comprehensive assessment includes procedures designed to evaluate vestibulo-ocular (ear/eye) function, dynamic visual acuity (movement of the body or head and visual response), cervical spine biomechanics and kinesthetic function, sensory organization, static and dynamic postural stability, motion sensitivity, and various forms of nystagmus associated with specific conditions.
At Leading Edge, we use state-of-the-art infrared camera technology and visual suppression in blackout goggles to allow visualization of many specific forms of nystagmus that are not evident in room light testing. This technology is only utilized by a select few providers.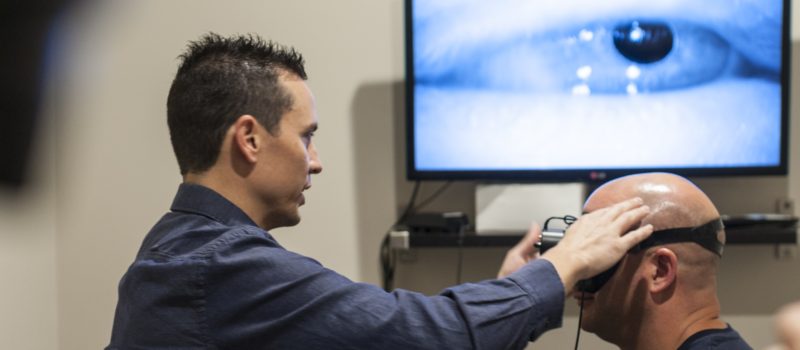 Listen: On Vertigo & the TRV Chair With Guest Roberta Slobodian

What's in this Episode? Dizziness is one of the more common complaints among clients that enter the typical medical clinic. It often proves difficult ...

Read More

Easy Tips to Improve Your Balance – At Any Age

Our balance is something we take for granted. Unfortunately, it is an essential skill for remaining healthy throughout our life. With loss of balance ...

Read More

Meet our Leading Edge Vestibular Rehabilitation Team in Edmonton, St. Albert & Sherwood Park

At leading Edge Physiotherapy we don't just offer vestibular rehabilitation. We offer a full spectrum of services for those suffering dizziness, balance and vestibular ...

Read More

Dizziness and BPPV

 Do you experience any of the following? Bouts of dizziness with changes in head or body positions such as bending down, looking up, rolling ...

Read More

The Effects of Repeated Head Trauma and Multiple Concussions

Sidney Crosby was out again - shouldn't we worry about his long term health? Everyone is talking about concussion in sport but there have ...

Read More