TMD & Orofacial Pain Program
Available at Windermere, St. Albert, and Royal Glenora locations.
Back to All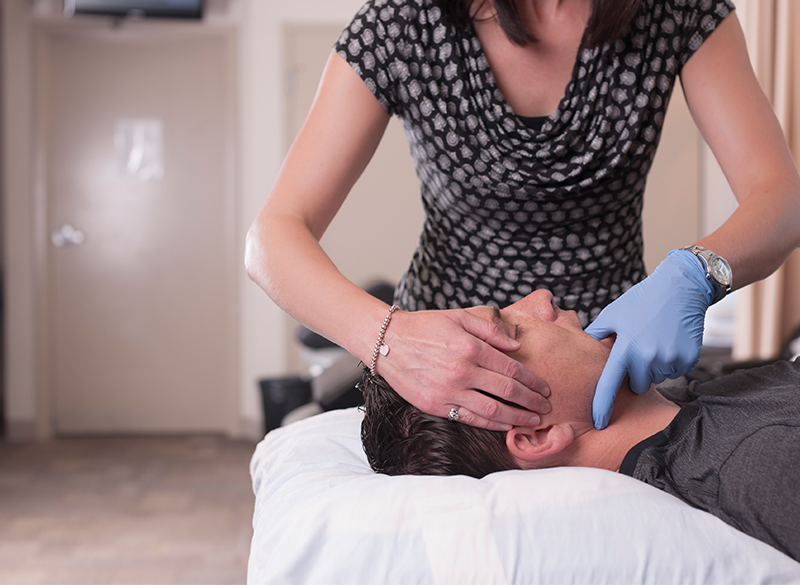 we believe that it shouldn't hurt to eat or open your mouth
Jaw pain in St. Albert or Edmonton? As part of our Physical Therapy Division, we offer to you our TMD & Orofacial Pain Program. Our program is eligible for insurance coverage as physiotherapy when performed by one of our physiotherapists.
Many patients present to the dentist and our physiotherapy clinics with complaints of pain in the area of their temporomandibular joint (TMJ). Temporomandibular disorder (TMD) is a diagnosis that may involve problems with the masticatory (chewing) muscles, TMJ (jaw), and/or associated structures. Major signs and symptoms for TMD are:
Pain in the masseter (lower jaw bone) muscle, TMJ, and/or temporalis (temple) muscle region
Mouth-opening limitation or decreased side to side jaw movement
TMJ sounds (clicking or grinding)
TMJ locking
TMD symptoms fluctuate and may be aggravated by clenching, grinding, chewing, talking, singing, yawning, poor posture, sleeping position, and/or poor habits such as phone cradling and leaning the chin on the hand. Psychosocial factors such as worry, stress, irritation, frustration, and depression may also negatively impact TMD symptoms. Other symptoms affecting the head and neck region such as headache, ear/hearing related symptoms and neck disorders may also be associated with TMD.
Our Approach:
Our initial evaluation will involve a thorough history and physical examination by one of our specially trained physiotherapists. The assessment includes examination of posture, the cervical spine and the TMJ to establish a primary diagnosis. We will identify contributing factors, at fault structures and establish a treatment plan in conjunction with your dentist or another TMJ specialist if necessary.
Why choose Leading Edge TMD Treatment?
Leading Edge TMD treatments envelope the spectrum of available techniques and modalities found in today's research. These are directed towards decreasing muscle tightness, reducing inflammation, improving range of motion, and decreasing pain. Treatment techniques utilized by our specially trained physiotherapist(s) may include: modalities such as heat, ice, transcutaneous electrical nerve stimulation (TNS), ultrasound, LLLT (Cold Laser) and Iontophoresis. We utilize a hands on approach when indicated that also includes specially trained techniques in myofascial release, joint mobilization, Graston Technique, acupuncture and intramuscular stimulation.
Exercises are essential, but must be prescribed dependent upon the specific diagnosis. These often include: neck stretches, postural retraining, TMJ stretching, muscle relaxation techniques, controlled opening exercises of the TMJ, Rocabado and rhythmic stabilization exercises.
Self Care for TMJ Pain

If you are suffering from TMJ (jaw) symptoms there can be many causes. Everything from the structure of your jaw and grinding of the ...

Read More