Radial Shockwave Edmonton, St. Albert, Spruce Grove & Sherwood Park
Back to All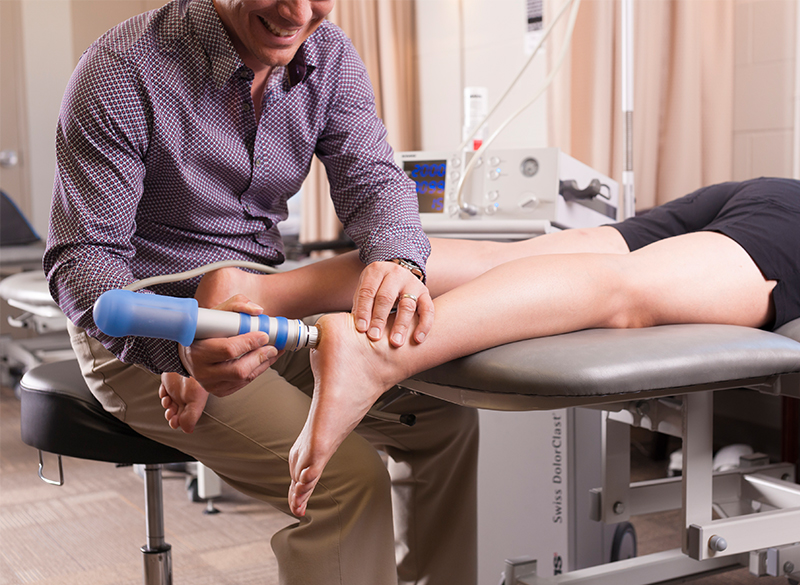 Available at Royal Glenora, Windermere, St. Albert, Sherwood Park, Capilano Rehabilitation Centre, Old Strathcona, and Spruce Grove locations.
---
when all else fails, tendon injuries and inflammation respond to radial shockwave
Leading Edge Physiotherapy is proud to be certified providers of Radial Shockwave in St. Albert, Sherwood Park, Spruce Grove and our Edmonton locations. All assessments and treatments are carried out by University trained and Alberta licensed physiotherapists who work hard to ensure the best care possible.
At Leading Edge Physiotherapy we offer the Swiss DolorClast® Master, a state-of-the-art technology that delivers a pneumatically generated high pressure sound wave that travels through the skin and into inflamed tissues and bone. The utilization of this technology gives us an edge in solving some of the most stubborn chronic conditions that a person can face.
How does radial shockwave work?
Radial shockwave is an acoustic pulse that is pneumatically generated. It causes the body to respond with increased metabolic activity around the site of pain. This increases the circulation and begins the healing process. The waves locally alter the chemical environment, stimulate the reabsorption of irritating calcium deposits and induce an analgesic effect. It takes 3 treatments completed one week apart with follow up appointments 4-12 weeks after the completion of those treatments.
Ultimately the shockwaves start the healing process over again…
How many treatments will it take to see results?
There can be results in as few as 3 treatments. Most patients feel significant results after the first treatment, however some do not notice until completion of the third. The key healing phase (fibroplasia) is complete after 6 to 8 weeks and by 3 months most patients have maximum relief. In some more difficult cases, we have had success with ongoing radial shockwave treatments. The decision is made on a case by case basis using ongoing assessment and consultation with you.
What types of injuries is radial shockwave used for?
Plantar Fasciitis (heel pain)
Achilles Tendinitis
Shin Splints
IT Band Friction Syndrome
(Hip) Trochanteric Bursitis
Lateral Epicondylitis (Tennis Elbow)
Medial Epicondylitis (Golfer's Elbow)
Patellar Tendinitis (Jumper's Knee)
Rotator Cuff Tendinitis
Pseudoarthrosis
Pain caused by trigger points
How much does radial shockwave cost?
At our facilities the cost of treatments are $130. At Leading Edge Physiotherapy all shockwave treatments are carried out by University Trained and Certified physical therapists. Ultimately, this treatment is only effective if utilized on the right problem at the right time. We  ensure that our shockwave procedures are done as part of a comprehensive treatment approach.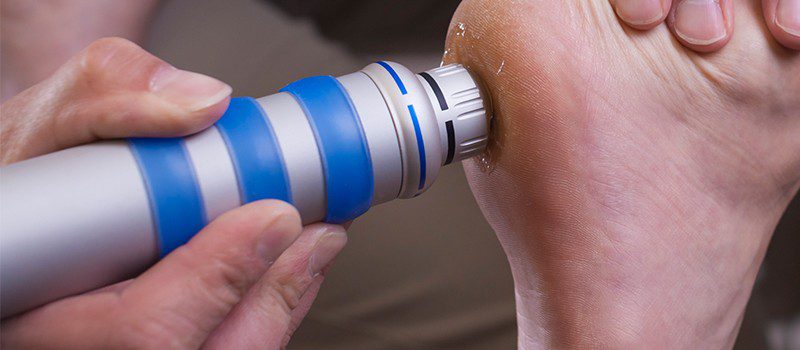 Radial Shockwave Treatment – What you should know

Radial Shockwave Therapy in Edmonton, Spruce Grove, Sherwood Park and St. Albert is becoming one of the most commonly advertised treatments for pain. At ...

Read More

To Flip Flop or Not

Flip FlopsMid winter dreams, the smell of spring and of course the call of the lake in the summer all bring visions of ...

Read More

Is the Achilles Tendon Your Achilles Heel?

Guest Post By ~ Matt PinardDid you remember watching the Toronto Raptors 2019 NBA Championship run? You may recall a specific moment in Game 5 of ...

Read More

2 Major Causes of Heel Pain

At Leading Edge Physio, we see a lot of feet.  One of the most common complaints that people come to us with is heel ...

Read More

Achilles Tendinitis – Another Top Cause of Heel Pain

A Greek Myth but real to many sufferers! Pain at the back of the heel may be achilles tendinitis. One of the more common ...

Read More