Zero Gravity Treadmill
Available at Windermere
Back to All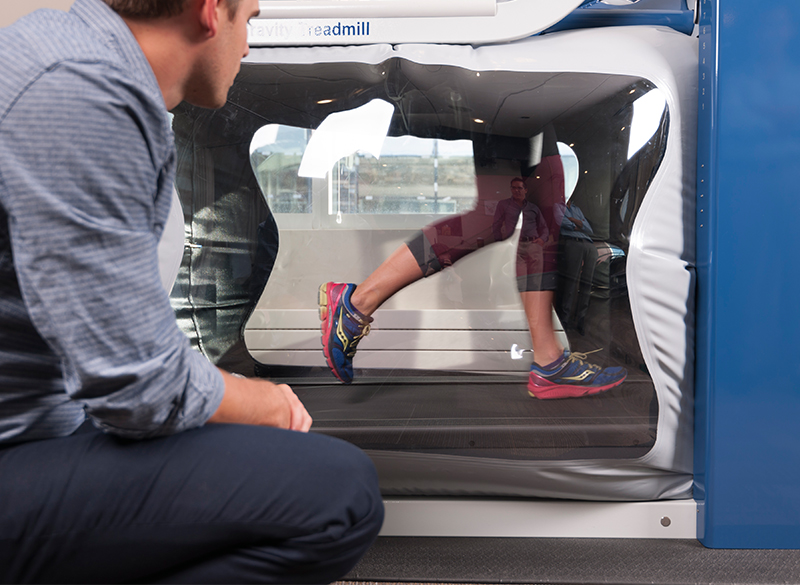 bringing revolutionary elite athlete training and rehab to you
At Leading Edge Physiotherapy we seek out and invest in revolutionary technology to give you all the advantages that a professional athlete may get in their recovery and training. With the Alter-G Zero Gravity Treadmill, we are able to get our patients weight bearing in a comfortable and safe environment earlier than they would otherwise. This not only speeds recovery timelines, but can also reduce the pain and risk inherent with them.
The Alter-G technology was initially developed for the International Space Station in an attempt to hold astronauts down to the treadmill, thereby allowing them to exercise in space. Its technology has been re-tasked to now do the reverse to "unweight" the lower body.
This unique and patented unweighted rehabilitation treadmill technology:
Allows patients to rehabilitate with less pain while reducing the risk of further injury, which may enable patients to heal faster.
Provides our Leading Edge physical therapists a precise way to track patient progress, keeping patients engaged and motivated during rehab.
Acts as both a rehab device and wellness tool that athletes and weekend warriors can utilize during and after the treatment process.
If you or your patient has sustained an acute or chronic injury, undergone surgery, awaiting surgery, sustained a non-operative injury, or are in pain and would benefit from a reduced weight bearing environment, then our Alter-G Zero Gravity Treatment Program may be indicated.
Why use the Leading Edge Alter-G treadmill?
The Alter-G treadmill takes advantage of positive air pressure. When enclosed in the Alter-G's environment it supports a patient's weight which facilitates exercise without the compressive loading forces present with routine land-based programs.
Benefits of our Alter-G treadmill include a patient's ability to reduce joint and soft-tissue impact during walking and running. In addition, the stability of the treadmill's design and function allow a patient to exercise in a safe environment where increases in weight bearing can occur from 20% to 100% of their total body weight.
Alter-G rehabilitation reduces the amount of stress placed on joints so it is especially well suited for patients who are in pain and are weakened due to an injury or disability. The decreased joint stress enables patients to exercise more easily and with less pain.
How does it work?
The patient puts on a pair of our specialized neoprene shorts, steps up onto the treadmill, raises the air compartment supports and zippers in. The Alter-G will calibrate and once they provide their weight the treadmill acts like any other, except it reduces one's weight bearing requirements.
Body weight can be reduced in 1% increments down to 20% of a person's body weight and the speed, incline and time can be increased to offset the reduced metabolic requirements of reduced bearing.
The steel frame supported area that allows for maximum stability in the weight reduced environment. The Alter-G calibrates to an individuals weight and can be altered before and during the rehabilitation session.