Leading Edge Custom Orthotics
Available at All Locations
Back to All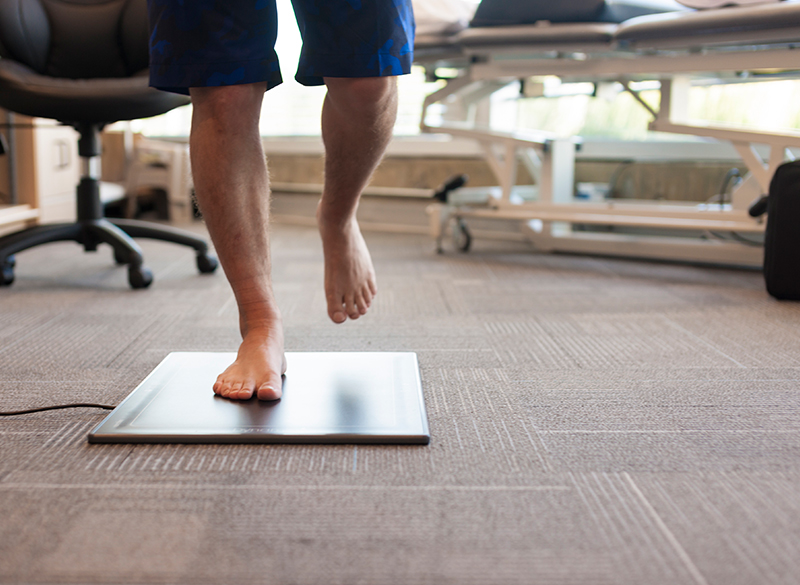 your feet form the foundation of your body and it all starts there
If you are looking for custom orthotics in St. Albert or Edmonton, then Leading Edge Physiotherapy can help.
Using low-temperature thermoplastics, Leading Edge can fabricate a medically effective orthotic tailored to a patient's needs. The orthotic is custom tailored to your foot to ensure that your foot achieves the right position at the right time while the foot is in contact with the ground. By ensuring that this occurs, the orthotic can promote proper alignment of the lower extremity and the appropriate firing of the muscles. Recent understanding also points to the role of the functional orthotic as a brain stimulator – telling the body what the foot is doing even when not in contact with the ground. This suggests that attaining the optimal positioning of the foot may only be part of the reason why orthotics are effective in treating overpronation. Ultimately, the result is that orthotics create the right foundation upon which you can stand and propel yourself through life.
As important as the orthotic itself are the modifications that are applied to the orthotic
The orthotic is the foundation, but experience and training help to ensure that the orthotic is prescriptive for your individual problem. For instance, heel cushions, heel raises and metatarsal pads are all external to the orthotic and are used to treat many  foot ailments. Additionally, today's orthotics can be made to fit many types of shoe and we will take the time to make an orthotic that you will use everyday.
There are 2 types of Custom Orthotics
Medical devices that encourage the foot to attain proper  alignment during the weight bearing phase of the walking cycle are known as functional orthotics.  The principle is that bones aligned properly allow for optimal mechanical advantage. This type of orthotic are usually made of rigid and semi-rigid materials.
Accomodative orthotics are meant to relieve stresses on feet that are relatively firm and inflexible.  Accommodative orthotics may be made of a wide range of materials such as cork, leather, plastic foams, and rubber materials. They are generally more flexible and softer than functional foot orthotics.  These are useful for the treatment of diabetic foot ulcerations and severely arthritic feet.
Orthotics are only one part of the treatment process
Have you tried orthotics in the past for one of the above conditions only to continue to suffer?  In many circumstances, orthotics are only one part of the healing process.
In addition to assessment, footwear advice, and education, a physical therapy treatment may be tailored to address the specific pain or ailment that your feet are suffering from.  Some providers just dispense orthotics while neglecting to treat the disorder.  Along with the previously mentioned  injuries and conditions, overpronation and other foot and ankle pain can be addressed through balance retraining, muscle strengthening/re-education, stretching, mobilization and even modification of existing footwear.  At Leading Edge, our physiotherapists are trained to provide a comprehensive treatment plan to help you to maintain an active lifestyle.
2 Major Causes of Heel Pain

At Leading Edge Physio, we see a lot of feet.  One of the most common complaints that people come to us with is heel ...

Read More

Radial Shockwave Treatment – What you should know

Radial Shockwave Therapy in Edmonton and St. Albert is becoming one of the most commonly advertised treatments for pain. At Leading Edge Physiotherapy, we ...

Read More

5 Causes of Overuse Injuries in Runners

Treat your body better than your tires! Like the tire in our featured image, your body will break down after a certain number of ...

Read More

Plantar Fasciitis – One of The Most Common Causes of Heel Pain

At Leading Edge Physiotherapy, on a daily basis we see feet. We see a lot of them. The most common complaint of pain in ...

Read More

Now Open In Windermere

It seems like only yesterday that we opened our first location in St. Albert. From our small corner of the world, we have enjoyed ...

Read More