Leading Edge Sports Physiotherapy
Available at Windermere, Royal Glenora, and St. Albert locations.
Back to All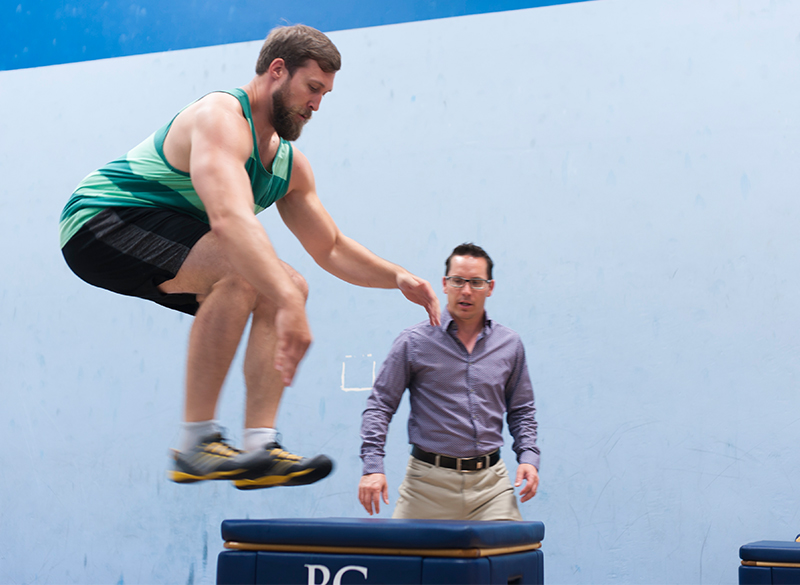 harnessing the power of knowledge, skill and innovation to help you perform your best
We skate the edge of technology, innovation and mad skill to ensure our patients get the elite care they need when they seek sports physiotherapy in Edmonton and St. Albert.
Our professional staff have been active and involved with a broad spectrum of sports over their lives. We have staff that are passionate about golf, hockey, soccer, football, snowboarding, dancing, yoga, water skiing, tennis, squash, hiking, running, rugby, wakeboarding and many more sports. More important, our therapists offer todays advanced treatments aimed at helping athletes recover from injury quick and completely. In fact, you may have trouble finding our therapists on the field, rink, trails, hill or course, because all dedicate our time to perfecting the treatments that get YOU back to your sport.
"Sports medicine isn't in our clinic name because it's implied by us living up to our name."
Giving you the edge in sport with technology:
We invest in technology like our Alter-G Zero Gravity Treadmill, Radial Shockwave, Spinal Decompression and Swimex Aquatic Therapy Pool so that your recovery and return to sport can be quicker and complete. Local professional sports teams don't have access to some of this technology, but you can.
Giving you the edge in sport with techniques:
We tackle our profession like you might your sport. We give hours of training to bringing our athletes today and tomorrows leading edge techniques. Our therapists have attained advanced training in techniques like Graston Technique, Acupuncture, Intramuscular Stimulation, Radial Shockwave, Manipulative Therapy, Myofascial Release and with backgrounds in Kinesiology, the combination makes for a powerful tool in your recovery.
Giving you the edge in sport with knowledge and experience:
Physiotherapy is much like any sport, the longer you play the more experienced you get. Our therapists have a combined 100 years treating elite and amateur athletes from various disciplines. Our therapists have a minimum 3 years of hands on care experience before they join us. We share knowledge amongst one another in a collaborative approach that will give you the needed experience to return to the level of play you want.
Whether you're looking to get back to sport or want to maintain an active lifestyle, our team of therapists, kinesiologists, assistants and specialists work together with you to help achieve your goals.
There are no bounds to what our program can do. The program is tailored to you and the goals that you set. In helping you to comeback from injury, enhance your performance or simply play pain free, we may:
Tailor treatment to your sport or activity
Analyze your biomechanics, muscular strength or range of motion to determine areas that can be improved to elevate your game and prevent injuries common to your sport
Work with your personal trainer to modify your training in order to prevent injury or improve your performance
Develop a training program based on the above
Utilize Graston Technique, Radial Shockwave Therapy, Swimex Aquatic Therapy, Acupuncture, GUNN IMS and Myofascial Release to give you an advanced edge on your competition
Depending on the type and severity of an injury, successful rehabilitation and physiotherapy may take anywhere from a few hours of light sessions, to months or years of intensive training. Some competitive athletes meet with their therapists regularly over the course of their careers to assess the condition of lingering injuries and look for warning signs of new ones that may occur.
With the guidance and treatment provided by skilled therapists and physicians, many athletes are able to fully recover from injuries and return to their sports with ease. Others utilize their physiotherapist throughout the course of their career to maintain optimum performance and to deal with the ongoing consequences of the demands of their sport.
Timelines are flexible and built around the individual athlete and their specific goals.