Justin Koch
MScPT, BSc Exercise Science, CSCS
Back to All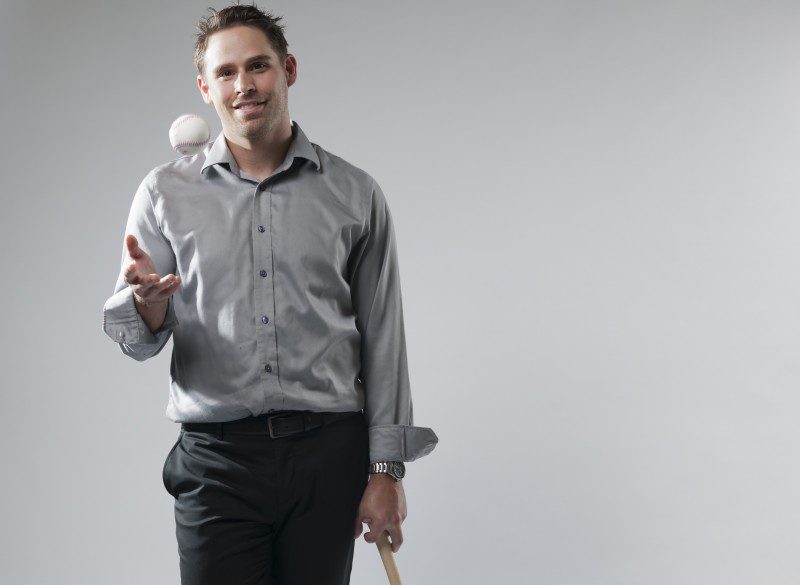 when push comes to shove he will use whichever gets the best results
Training
Physiotherapist
Masters of Science in Physiotherapy, University of Alberta – 2012
Bachelor of Science in Exercise Science, William Woods University – Missouri (2008)
Certified Strength and Conditioning Specialist – 2009
Functional Dry Needling practitioner – 2012
Certified in Functional Movement Screen (2012) and Selective Functional Movement Assessment (2013)
Acupuncture Foundation of Canada – level 1 – 2015
Avid baseball player, golfer, fly fisherman and fitness guru
Personality
Justin Koch is also known to his friends and fellow athletes as "cookie." In fact, people usually skip the last name for fear of pronouncing it incorrectly and awkwardly. His 24 hour 5 O'clock shadow will get you in the door and his vast knowledge for rehabilitating any injury will keep you coming back (for new ones). Justin chose the profession of physiotherapy after years of playing high level competitive baseball. He decided that he wanted to know more about the body in order to become a better athlete. He completed his Exercise Science degree in Missouri on a baseball scholarship but ultimately gave up his dream of becoming a pro baseball player to get his physio degree at the University of Alberta. His special interest in sport performance now comes in quite handy as he guides his patients to their own goals and achievements. His experience on the field is indispensable as he knows what it takes to get the job done and as the saying goes, there is no quit in his vocabulary. He will also give 110% every shift (treatment) and dig hard in the corners (of your muscles)!
Favorite book – Orthopedic rehab textbooks, backcountry road maps, and local fish stock reports and yes he is serious, and yes there is proof.
Favorite sport – Definitely baseball… and you could almost see his heart break when Emily told him about her favorite baseball team in the NBA…she swore it was called the National Baseball Association?
Favorite movie –Dumb and Dumber. Probably while reading his text books to balance things out.
Favorite hobby – fly fishing. Don't ask him about his favorite spots to fish though, because the first rule of fly fishing is you don't talk about where to fly fish.
Stupid human trick – No way, but ask for a card trick and this guy can blow your mind.
Clinical pet peeve – A messy clinic, have to keep things tidy!
Something you may not know about him – He plays in a bowling league. Again. Seriously. He also wanted to be a ninja turtle when he was growing up. When that fell through he settled for a professional hockey or baseball player.
Staff say – "haha to the tidy clinic mentioned above as his area can sometimes resemble the aftermath of a bomb going off in staples."
Superhuman talent – He once won a game of connect 4 in 3 moves.
Edge
Justin achieved academic success while playing collegiate baseball at William Woods University in Missouri. He received his Bachelor of Science in Exercise Science with a special interest in sport and sport performance in 2008. He achieved his certification as a strength and conditioning specialist in 2009. While working at Body By Bennett training athletes, Justin embarked on his Masters in Physiotherapy from the University of Alberta and achieved his designation in 2012. Following graduation he achieved certification in Functional Dry Needling in 2012, certification in Functional Movement Screen in 2012 and Selective Functional Movement Assessment in 2013. Justin joined Leading Edge Physiotherapy in 2015 as a partner to start our Windermere Facility and is currently studying acupuncture from the Acupuncture Foundation of Canada. Justin continues to work with elite athletes and individuals as a strength and conditioning specialist.
Request Appointment
Comedy Night

YUP IT'S US AGAIN: We are back again and getting more fun with age. We are pleased to be hosting the Leading Edge Comedy ...

Read More

Full Steam Ahead & It's Only March

We are so very privileged to live and work in Edmonton and St. Albert. We believe that with that privilege comes a level of ...

Read More

Meet our Leading Edge Vestibular Rehabilitation Team in Edmonton & St. Albert

At leading Edge Physiotherapy we don't just offer vestibular rehabilitation. We offer a full spectrum of services for those suffering dizziness, balance and vestibular ...

Read More

Leading Edge Physiotherapy & Lululemon RunWild 10k Run clinic

If the kids can - We can: Leading Edge is teaming up with our friends at Lululemon to offer training for RunWild! The Challenge: ...

Read More

What Does Spinal Decompression Do?

Traction is the Treatment – Decompression is the Result Traction is the process of drawing or pulling. When we utilize our hands or some mechanical ...

Read More