Tayler Gray
BScPT, CAFCI, Dip Manip PT, FCAMT
Back to All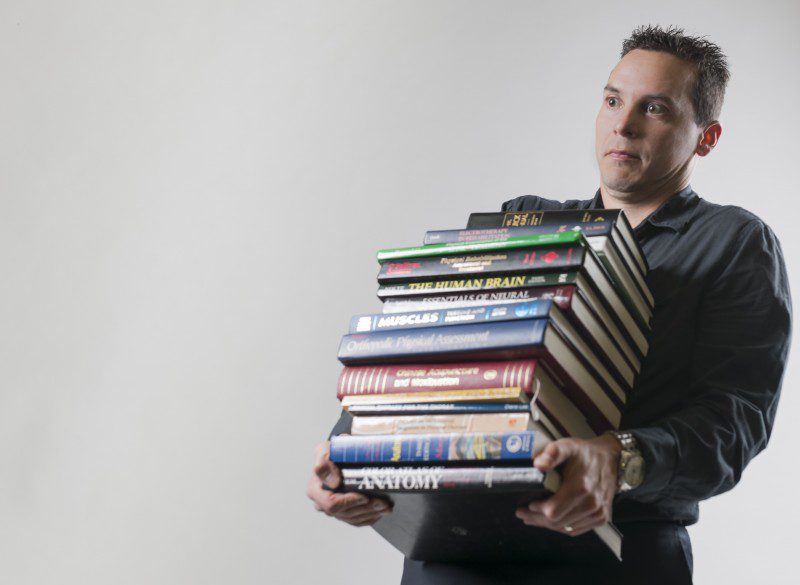 he makes being a nerd cool
training
Physiotherapist
Bachelors of Science in Physical Therapy (with distinction), University of Alberta 2001
Diploma of Advanced Orthopaedic Manual & Manipulative Physiotherapy – 2007
Fellow of the Canadian Academy of Manipulative Physiotherapy – 2007
APTA Vestibular Rehabilitation Certification, Emory University – 2010
APTA Advances in Vestibular Rehabilitation Certification, Duke University – 2011
Gunn IMS Certification, Institute for the Study and Treatment of Pain, British Columbia – 2012
Canadian Acupuncture Foundation Institute Certification
Hockey and baseball player and fan, avid golfer, and hiker
Personality
When deciding a career path, Physical therapy stood out to Tayler within the various healthcare professions. He felt that it provided an opportunity to work actively and directly with people on a one on one basis and see the process of recovery right to the end. He had required care from a physical therapist following a hockey related injury as a teenager and the impact it had on his young life at that time was a memorable one. Fortunately his recovery was complete and he unleashed his mental prowess in the field of physiotherapy. Tayler was initially wooed to Leading Edge Physio so Grant could see eye to eye to another physio at RGC (literally). The fact he is a well-established and skillful physiotherapist with a significant brain trust was a bonus. Tayler has dedicated the vast majority of his life studying (see below) or playing sports. His patients all know well the results of this wicked combination we call the "athletic nerd," especially after a vertigo treatment. His passion for sports, his family, and his patients leaves nothing undesired. One or two less strokes on his golf game and life would be complete.
Favorite Book – Option 1) 50 Shades of Tayler Gray Option 2) He recommends Three Day Road by Joseph Boyden which he once got as a gift from his mother. Awe.
Favorite sport – He has played several of them at an elite level  including hockey, baseball, volleyball, badminton, and golf but like a great deal of small town Alberta boys hockey continues to be his go to.
Favorite Movie – Major League. Tayler came up short (again…literally) from being in the major league so this movie lets him live out his dreams.
Favorite hobby – Golf and you have to admire/hate a guy who smashes a ball 30o yards regularly. When he is not playing he is betting Grant on the outcome of the PGA. Actually he will bet with Grant on anything, which is really why Grant will retire early.
Clinical Pet Peeve – Grant's singing would is at the top of the list. All he asks is a few more notes, and few less decibels.
Staff say – "He loves to share knowledge, always has a smile on his face, and enjoys every minute in the clinic with his patients" and "he sure likes to tuck and untuck his shirt a lot."
Something you may not know about him – He is a huge world history buff.
Superhuman talent – His hands hold a great deal of strength when working on joints and muscles after years of training (especially per square inch given that they are on the smaller side).
edge
Are you ready for it? Tayler received his Bachelor of Science in Physical Therapy with distinction from the University of Alberta in 2001. He holds a diploma of Advanced Manual and Manipulative Physical Therapy and a Fellowship from the Canadian Academy of Manipulative Physical Therapists. Tayler went on to complete the Vestibular Rehabilitation competency based program at Emory University in 2010 and the Advances in Vestibular Rehabilitation program at Duke University in 2011. He completed the Gunn Intramuscular Stimulation accreditation program from the Institute for the Study and Treatment of Pain in 2012 as well as the Anatomical Acupuncture certification program from the Acupuncture Foundation of Canada that same year. In addition to his advanced training and position at Leading Edge RGC, Tayler and Leading Edge Physiotherapy operate a weekly vestibular screening clinic in conjunction with Dr. Allan Ho in the Synergy Wellness Centre in Sherwood Park. Tayler combines the rare qualities of experience, skill, intelligence and sport into each and every treatment. This nerdy athlete is making the difference he knew the profession would allow him to.
Request Appointment
Comedy Night

YUP IT'S US AGAIN: We are back again and getting more fun with age. We are pleased to be hosting the Leading Edge Comedy ...

Read More

Full Steam Ahead & It's Only March

We are so very privileged to live and work in Edmonton and St. Albert. We believe that with that privilege comes a level of ...

Read More

Meet our Leading Edge Vestibular Rehabilitation Team in Edmonton & St. Albert

At leading Edge Physiotherapy we don't just offer vestibular rehabilitation. We offer a full spectrum of services for those suffering dizziness, balance and vestibular ...

Read More

Leading Edge Physiotherapy & Lululemon RunWild 10k Run clinic

If the kids can - We can: Leading Edge is teaming up with our friends at Lululemon to offer training for RunWild! The Challenge: ...

Read More

What Does Spinal Decompression Do?

Traction is the Treatment – Decompression is the Result Traction is the process of drawing or pulling. When we utilize our hands or some mechanical ...

Read More