Maui 101
Back to All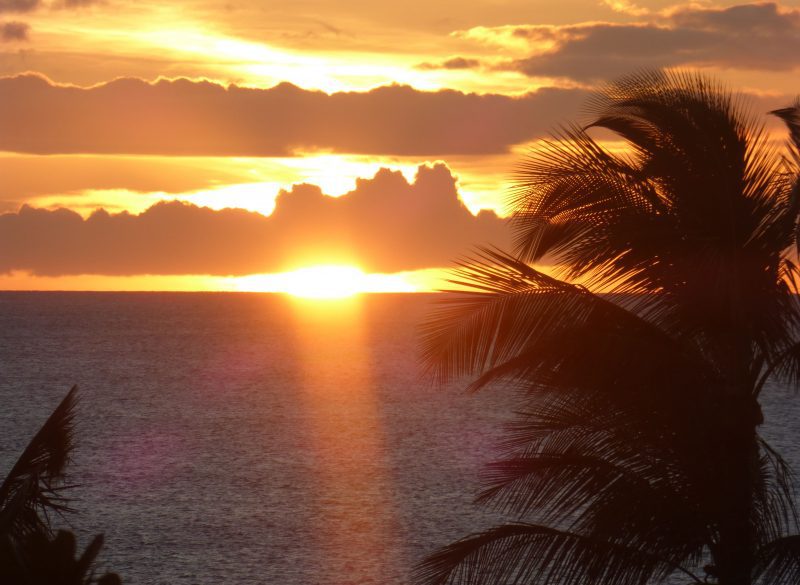 Maui 101 from Grant and Heidi
We like to stay in South Kihei or Wailea.  If you are looking for condos, our favourite two on vrbo.com to look up are:  Kihei- Maui Kamaole j,k or l buildings are by the upper pool, Wailea – Grand Champions – two pools and walkable to restaurants and the Shops at Wailea.  For hotels, we love the grounds and pools at the Fairmont Kea Lani and it is significantly less busy and touristy than the Grand Wailea.  We also have stayed at the Mariott and it has a cool kids spray park.
Wailea
Walk the sea walk along the front of the hotels.  It is accessible via any of the hotels in Wailea.  It is a wonderful run as well, but we enjoy the walk and the opportunity to check out the grounds of the resorts.  Must see is the Grand Wailea…  Check out the grounds of this one for sure as it is littered with amazing art and statues and a floating chapel with amazing stainglass and coi pond.
To access the shops of Wailea one can either get there walking along South Kihei Road, or from the sea walk by cutting through the Marriott property, which has a Starbucks.  We enjoy the restaurants and shops here immensely. Wednesday nights are open gallery nights and free entertainment at 6:30-8 usually.
Heidi's favourite shop on the island is Mahina- ladies dress shop- there is one in Kihei across from the Whale kids park on south kihei road, one in paia to the right of the highway by the bookstore, and one in paia just up the road from the Paia fish market on the corner.  It has cute tops and dresses all for under $50.  There is now one in the Shops of Wailea but it didn't have the same things.
RESTAURANTS in Wailea and Kihei
Capische, at the Hotel Wailea, and this is another must for dinner.  Recommend reservations and attempt to have dinner around 5pm to again catch a sunset.  I like the maui onion caprese salad here and sometimes there is live piano.
More expensive but worth it- Sarento's on the beach (Kihei):  call with reservations and book a night when you can get first or second row on the patio during the sunset- This is hands down our favourite- it is expensive but worth it- the food is amazing and the service is even better- get up once or twice from the table to take a picture, and when you sit back down, your napkin will be refolded!
Also expensive but delicious was Ka'Ana at the newest resort in Wailea called the Andaz.  Even if you don't want to have dinner here, their Ahi Tuna Caprese salad and a drink would be lovely.  This is one of our new favourite places to watch the Sunset- on the third tier of five is their bar- great place to relax, listen to live music and watch the sunset.
Afternoon appetizers (Pupus) and cheaper drinks Five Palms at the Mana Kai it is actually right next door to Sarentos.  The outdoor lounge has half price appetizers and sushi daily from 3-6pm WE think and it is awesome- This is a lovely place to stay to watch a sunset.
Cheap and fast but unique- north on Kihei Road in the Azeka Mall called Coconuts.  It has been listed as top 10 places to eat like a local in North America by Frommers.  The fish tacos are unbelievable.
Another newer favourite is in Wailea just where the highway ends and turns the corner down is called Monkey Pod.  If you go before 5:30, the appies are half price and  pizzas are $9 instead of $17 and it is a wood fired oven.  It is similar food to Earls type setting.  In this mall, there are 2 or 3 other  neat places and also a Subway restaurant.
Gannon's at the Wailea Gold Golf course) by the Fairmont Kea Lani- it is a bit overpriced but the crabcake benedict is amazing but mostly here you can watch the whales if it is in season (december to march).  This is the best breakfast place (for ambiance) aside from Longhis which is located on the main floor of the Shops at Wailea.
The other good breakfast is Moose McGillicuddy's in kihei (also called fred's) and you can get two for one breakfast coupons in the local newspapers for free.  For $0.45 upgrade your side to the banana muffin and take it home for a snack- it is HUGE and baked every morning.
The restaurants at the Kea Lani Fairmont are great too- there is a café/bistro and the formal dining at Ko is amazing and very "Hawaiian" menu- kids under 5 eat free. Grant loves the Hoisin Pork Chop and the Ahi on the Rocks is a must for those who like Tuna.
Activities MUST DO:
Travelling to Lahaina, Kanapali and Kapalua is a day type of a trip…
LAHAINA 25 minute drive to the town of Lahaina – neat shops, art galleries, just find a parking lot near Front Street and pay for parking. Its easier than trying to find 2 hour parking. The oldest biggest Banyon tree is the town square
Eating here there is so much- we like Bubba Gump's which is from the movie Forrest Gump! This place has amazing fish and chips!  It is located toward the end of Front Street.
Check out the Art Galleries and do some shopping. There are many unique shops here and in 2013 Outlets opened with Coach, Ralph Lauren, Lucky, etc. (not like Phoenix outlet shopping though)
Kanapali – further up the same road about ten minutes is Kaanapali where there is a neat shopping area called Whaler's Village.
Kapalua – 15 minutes further up the road is the resort and golf town Kapalua. In January every year the Mercedes is played here at the Kapalua PLantation course- the clubhouse is beautiful and has a great restaurant good for breakfast or lunch, but overpriced for dinner.
Our favourite thing with the kids is the Maui OceanCentre, just past north kihei.  There are parts indoors, but lots of it is outdoors too so bring hats and sunscreen.  We also often head down kihei road to the main outdoor park, I think just past Kamaole beach 1- it is across from the outdoor touristy market that has great snow cones.
Saturdays in Kahului where the airport is there is a huge outdoor flea market- kind of fun, but lots of knick knacks- chocolate covered strawberries booth is unreal Also in Kahului there is a theatre, and indoor mall with a Macy's, and a Whole Foods Market.
Costco – on the left as you leave the airport – has the tour books, great beach towels, packs of water, and amazing Hawaiian kids books even if you aren't going there to buy food for your condo
Last time I treated myself to a massage at the Wailea Grande (Under Construction 2015) and it was unbelievable- go at least an hour early to use the pool area which can't really be described. It made me understand why people do spa vacations- this is where Oprah brought her staff.  For just $50, you can go there and just use that part without even paying for the expensive services, but you might as well treat yourself!
Staying in Wailea and Looking for something to do?
Wednesday nights at the Shops at Wailea have hula dancers etc, and the galleries have champagne etc for free- there are really neat stores here-some are crazy expensive but some are quite reasonable. Cheeseburgers in Paradise is a popular restaurant that is good for lunch
BARS… Mulligans – this is a great Irish bar and it is located on the Blue Course in Wailea. It has good food and a pretty decent night life.  Lots of live entertainment and most of the time you can buy tickets for show or show and dinner Wednesday nights to Willie K.  He is amazing and worth the money, thought the dinner is average. Generally Wailea is pretty quiet and you will find this to be a good thing.  The pool bar at the Fairmont can be good enough.
Golf: We like the Wailea blue, gold and emerald and sometimes you can get a discount if they just worked on one of the courses/greens or twilight hours.  If you book the first twilight price but show up early, they will sometimes let you out early anyway.  We prefer to golf early so it's not too hot.
Another Day Trip that ends with a waterfall HIKE
Day trip driving towards Hana part of the way- the town of Paia is a neat hippie town where you might see Willie Nelson! here, the Paia fish market is a great restaurant on the corner with amazing fish- definitely a must- don't buy much in paia though as the prices are inflated..there is however Maui bikini near the corner of the paia fish market and their bathing suits are always featured in the sports illustrated swimsuit issue..now you can continue on
A short drive along the same Hana Highway will take you to HooKipa beach which is world renowned for wind surfing and it is a great stop for some photos and just to hang out. There is also a Honu turtle sanctuary there by the rocks along the wall and if you are lucky, they will be sunning on the beach, very camouflaged but unreal if you catch them! Most people don't even know they are there.
You can continue as far as you want along the highway to hana which takes a full day because the road is oneway bridges, and hairpin curves- we went the whole way and I wouldn't recommend it  There are a bunch of neat stops along the first few miles to see water falls, etc.- we found the book Maui Revealed very helpful with good descriptions of this part.
POINT OF INTEREST on this trip
The neatest part is after mile marker 6, there is a little metal fence on the right, just before a cow pasture and you walk through a mild to moderately difficult but short hike in a bamboo forest to 3 waterfalls where you can swim in the pools- it's worth going up to the second falls- it's described in the book maui revealed and this is the best book to buy. that is probably my favourite maui thing we've even seen…