The Leading Edge Scholar Program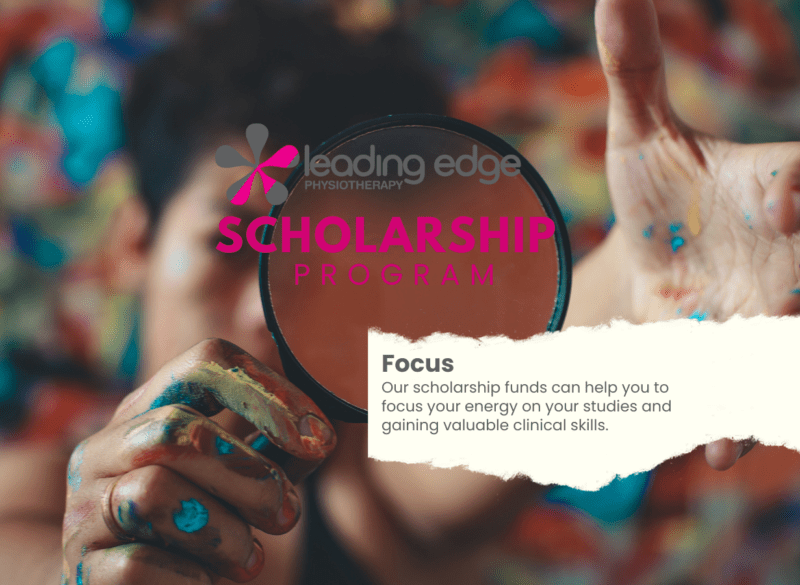 The Leading Edge Scholarship is an independently funded award which enables talented young people to complete their final year of studies in their Physical Therapy program.

Applying for the Scholarship is meant to be challenging. We encourage applications from talented physical therapy students everywhere. Acceptance to this private scholarship program goes beyond a financial benefit, it also provides mentorship and an environment to challenge your clinical knowledge, skills and attitudes. It provides a pathway to begin your career with clinically relevant skills beyond practicum experience and the entry level of many of your peers. The scholarship also provides an avenue to employment at a Leading Edge Physiotherapy facility upon completion of your education program.
Academic commitment
Registered in a physical therapy graduate program's final year of the physical therapy program
Selection based on a demonstrated dedication to gaining strong clinical skills and innovation in clinical fieldwork placements
Recipient will demonstrate leadership qualities in sport, involvement in the broader community in advancing quality of life, charitable work and/or innovative care
Scholarship can only be held once by a student
Open to Canadian citizens
Open to permanent residents
Open to foreign nationals holding Canadian study permits
Open to applicants in course-based study programs in physical therapy
Open to applicants in masters programs
Open to full time registered students only
The Selection Criteria – Becoming A Leading Edge Scholar
There is no such thing as a 'type' when the selection committee weighs who is selected for the Leading Edge Scholarship. The strength of the Scholarship applicant and application comes from its diversity and focus beyond academic achievement.
The following 4 major guiding criteria will be utilized:
Academics – the student demonstrates literary and scholastic commitment
Character – the student shows commitment to ethics, truth, courage, devotion to duty, sacrifice, sympathy for and protection of the weak, kindliness, unselfishness and fellowship

Purpose – the student has enthusiasm and is excellence driven to acquire, master and use one's skills and talents to the fullest in the area of improving human life or and condition


Authenticity – the student demonstrates a

clear understanding of self and the ability to remain genuine, real and true to who they
Leadership – the student has exhibited instincts to lead, and takes an active interest in improving one's fellow beings.

(this can be demonstrated by mastery in areas such as sports, music, dance, theatre, and/or artistic pursuits, particularly where teamwork is involved)
We are looking for young people of outstanding intellect, character, leadership, and commitment to service.

The Leading Edge Scholarship
$5000 cash award provided to the Leading Scholar paid in 2 installments
First installment provided upon being named a Leading Edge Scholar
Second installment upon successful completion of physiotherapy program
How Many Scholarships Are Available?
There is no definitive number of scholarships available as the number will be dictated by the strength of the applicant pool.
How Does Mentorship Work?
During the application process, you will be asked to identify a clinical area of interest. These include MSK Orthopedics & Sports Medicine, Vestibular Therapy, Pelvic Health, Pediatrics and Cancer Rehabilitation.
Upon selection as a Leading Edge Scholar, you will be paired with a mentor who has advanced training and credentials in the area of your interest. You will have the opportunity to liaise with the mentor and if you choose, you can accept a paid position to work as an advanced clinical assistant along side your mentor.
Apply today: