Graham Rayment
MScPT, BSc, CAFCI
Back to All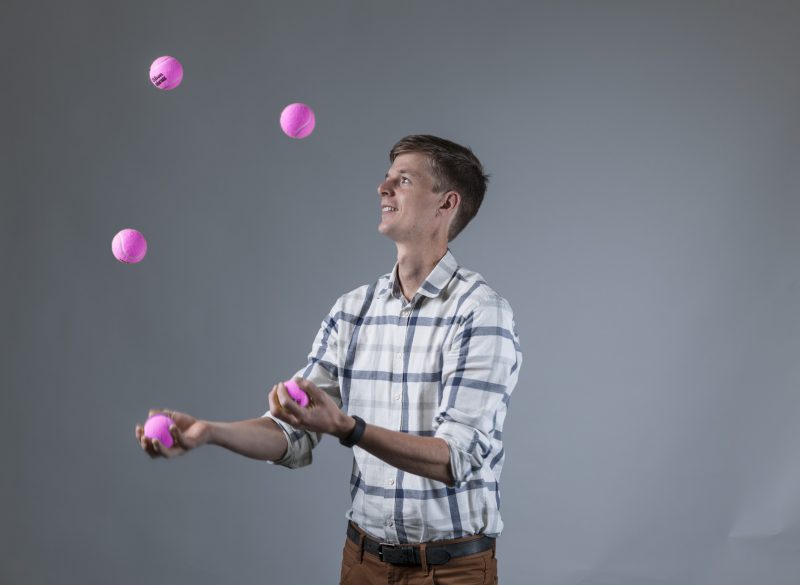 don't let his quiet demeanor fool you, this guy has game
Training
Physiotherapist
Masters of Science in Physical Therapy, University of Alberta (with distinction) – 2010
Bachelors of Science (Biology Major), King's University – 2007
Lifemark Vestibular Rehabilitation – 2014
Canadian Physiotherapy Association Orthopedic Division CPA Level 1 – 2012
Canadian Physiotherapy Association Orthopedic Division CPA Level 2 – 2012
Acupuncture Foundation of Canada Institute Certification (CAFCI) – 2011
McKenzie Part A – 2011
Devoted community activist, volunteer and donor
Personality
Graham knew from Junior High that he wanted to work in health care and do something that combined his passions for helping others, movement, activity and sport. So it was not by accident that having played elite levels of volleyball in University in a team environment, he discovered a match in the physiotherapy profession. He set his mind to it, literally, as he attained major academic awards along the way while balancing the demands of sport and education. Graham has a flare unlike any other. It's not bright and loud like Grant, it is understated, witty and eloquent. This "cool nerd" (we love nerds at Leading Edge and so should our patients) is as comfortable in a text book as he is on the golf course, volleyball court or playing with his kids. At Leading Edge, we love the nerds who have fun, play sports and most important, genuinely care for people and can relate to them at the same time. Graham has this in spades and he was an immediate fit with all of us at Leading Edge. He is an obvious addition to the team.
Favorite book – an ardent hockey fan, Graham covets his Wayne Gretzky autobiography
Favorite sport – true to his personality, he would never want to single out one sport as it would not be fair to the other sports. Graham enjoys volleyball, hockey, golf and skiing and he enjoys them all equally of course.
Favorite movie – since he is rarely able to watch any movies these days (with the time he spends among his other loves watching his kids, cartoons and sports), he digs deep in the vault for TOP GUN. Who can blame him as except for the feather hair cut he bares a faint resemblance to GOOSE.
Favorite Hobby – when life becomes your hobby they begin to blend. He enjoys golf, caring too much for the Oilers, hanging out with his family, house and yard DIY's
Clinical Pet Peeve – Rachel's hitting and yelling (only kind of kidding here)
Something you may not know about him – he grew up in a small, dutch hamlet called Neerlandia (yes it really exists: seriously here is the google map)
Staff say – "we LOOOOOOOOOOVE Graham" – it kind of annoys the rest of us. I mean what are we chopped liver?
Superhuman Talent –he is able to identify what is for dinner within 5 seconds of walking into the house!
Edge
Graham graduated with a Master of Science in Physical Therapy from the University of Alberta in 2009 earning The Dean's Medal in Rehabilitation Medicine. This is serious stuff and demonstrates not only his intelligence but his hard work and dedication to being the best in his class. Prior to this, he won the Governor General's Academic Silver Medal for the highest GPA in his graduating class at King's University. Showing he is not just a big brain with dashing good looks, while at The King's University, he was a member of the Men's Volleyball Team (2003-2006) that won an Alberta College Athletic Conference Bronze medal and reached as high as a #3 national ranking. He has completed certification in Acupuncture through AFCI, a variety of manual therapy techniques including Charles Kelly Muscle Mobilization, McKenzie Part A, Mulligan Mobilization, cancer rehabilitation and Level 1 and 2 courses offered through the Orthopaedic Division. The scary part is that his journey is just beginning. Graham combines a wealth of skills and techniques with a brilliant mind for finding the effective combination just for you. If you are in pain or recovering from an injury you can check out Graham's edge yourself.
Request Appointment

Comedy Night

YUP IT'S US AGAIN: We are back again and getting more fun with age. We are pleased to be hosting the Leading Edge Comedy ...

Read More

Full Steam Ahead & It's Only March

We are so very privileged to live and work in Edmonton and St. Albert. We believe that with that privilege comes a level of ...

Read More

Meet our Leading Edge Vestibular Rehabilitation Team in Edmonton & St. Albert

At leading Edge Physiotherapy we don't just offer vestibular rehabilitation. We offer a full spectrum of services for those suffering dizziness, balance and vestibular ...

Read More

Leading Edge Physiotherapy & Lululemon RunWild 10k Run clinic

If the kids can - We can: Leading Edge is teaming up with our friends at Lululemon to offer training for RunWild! The Challenge: ...

Read More

What Does Spinal Decompression Do?

Traction is the Treatment – Decompression is the Result Traction is the process of drawing or pulling. When we utilize our hands or some mechanical ...

Read More