Capilano Sponsors 2012 Team Canada Beach Volleyball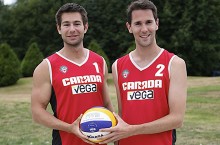 Capilano Rehab Centre is a proud sponsor of the 2012 Team Canada Men's Deaf Beach Volleyball Team.  The team will be competing in the first-ever World Deaf Beach Volleyball Championship in Alanya, Turkey, from September 15-23.
The Team Canada Men's Members are:
Cole Sanderson, Vancouver, BC and Jon Kassian, Edmonton, Alberta (Team 1)

Richie Dyck, White Rock, BC and Scot Whiteley, Calgary, Alberta (Team 2)

 
The Deaf Beach Volleyball Championship includes 24 men's and 24 women's teams from across the globe.  The tournament will also determine the rankings for next summer's Deaflympics.
Interested viewers can keep up to date with the volleyball results by checking out the following link:  http://www.deafbeachvolleyball2012.org/pages/News.html
Capilano Rehab Centre is an active volleyball supporter in the Edmonton and surrounding community, and they supply sport physical therapy and other health services to various sports teams of all levels, including The King's University College Eagles.
Tags
Graston, Jumper's Knee, radial shockwave, Rotator cuff, Sports Injuries