Fixing Groin Strains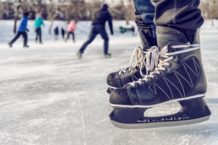 Catching your skate in a rut or sudden changes in direction playing indoor soccer can place a mega-strain on your groin.  And if your groin is strained, you aren't going to be able to accomplish much at the rink or sports-field.   
STRAIN DEFINITION
A groin pull is a strain or tearing of the muscles which run from the front of your hip bone to the inside of your thigh. Usually it is one of three muscles which is affected in a groin injury, and they all have impressive sounding Latin names Gracillis, Adductor Magnus, and Adductor Longus. Muscle pulls are classified according to three levels:  Grade 1 (Mild), Grade 2 (Moderate), and Grade 3 (Severe).  Fortunately, severe strains are rare.
STRAIN SOLUTION
With a mild or moderate groin pull, the initial treatment is usually ice, rest, and a tensor bandage. Depending on the level of disability and the amount of pain present, you can usually begin easy flexibility exercises after the first couple of days.  
If you have a moderate or severe strain, you may need to see a physical therapist for treatment.  Typically, your PT could apply ultrasound and get you doing some further activities including stretching and gentle isometric exercises.  This is often progressed to stationary cycling and/or free-style or backstroke swimming which allows for your cardiac maintenance.  
In addition to basic physiotherapy, you may benefit from K-Laser™ or Graston® to the affected area.
STRAIN PROGRESSION
As a rule of thumb, no running or skating is allowed until your flexibility is within 90 per cent of the good side.  Skaters may be allowed to skate but not with full stride lengths.  For those wanting muscle strength symmetry, isokinetic testing and training may be performed on a BIODEX™ multi-joint system which allows a more accurate measurement of the actual strength/endurance deficits and balances.  
STRAIN PREVENTION
Unfortunately, groin pulls can be particularly prone to re-injury, especially if your arena activities are resumed prematurely.  A continual stretching and proper warm-up program even after the injury appears to have healed is a definite preventative must.  If you have suffered a groin pull, call Capilano today at 780-466-1104.  Stop hurting.  Start living.
________________________________________________________________
Capilano Rehab Centre | Physical Therapy Capilano physical therapists have provided state-of-the-art physical therapy, sports physiotherapy, back pain, WCB, accident, whiplash and injury rehab to clients in Edmonton for over 10 years.
5832 Terrace Rd Edmonton, AB. T6A 3Y8
(780) 466-1104
Tags
Groin Injury, Groin Strain