Radial Shockwave for Chronic Knee Pain
Do you suffer from chronic knee pain?  Do you have trouble walking, jogging or climbing stairs?  Are you knees often stiff and sore?  If you have issues with arthritic knee pain, you may want to consider the new application of Radial Shockwave Therapy (RSWT) from Capilano Rehab Centre.
Radial Shockwave is an advanced pain treatment that can now offer pain relief for chronic knee pain, without needles or drugs.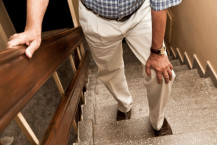 The radial shockwaves act on the musculoskeletal system and sore knees by the depletion of the body's neurotransmitters for pain and the activation of adult stem cells.
The effectiveness and safety of Radial Shockwave treatment has been demonstrated in various clinical studies according to the principles of evidence-based medicine and is becoming a treatment modality of choice for chronic pain, including but not limited to: plantar fasciitis, Achilles tendinopathy, Jumper's knee, hip bursitis, tennis elbow, golfer's elbow, and frozen shoulder.
Capilano Rehab Centre is a local leader in the application of RSWT for chronic pain and have over a decade of experience in administering pain relief treatments.  If you are suffering from arthritic pain in your knees, you may benefit from Capilano's Radial Shockwave.
Please call Capilano today at 780-466-1104 for your complimentary screen examination.
Tags
knee pain, shockwave therapy