Shockwave Therapy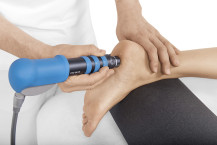 Capilano Rehab Centre has been a recognized provider of Radial Shockwave Therapy (RSWT) for almost 10 years.  We were one of the original rehabilitation medicine groups in Western Canada to offer RSWT and have successfully helped hundreds of patients find relief from chronic heel, elbow, shoulder, knee and hip pain.
What is Radial Shockwave Therapy? 
Radial Shockwave is not an electric shock, like that from a socket, but is a physical sound wave "shock", similar to one generated by a supersonic jet fighter.  Radial Shockwave Therapy is a series of therapeutic low-energy micro "sonic booms" that are applied to the affected area.
What Kind of Problems Respond to RSWT?
Shockwave Therapy can help the following chronic pain problems:
Plantar Fasciitis

Heel Spur Syndrome

Achilles Tendonitis & Thickening

Tennis Elbow

Golfer's Elbow

Trochanteric Bursitis

Chronic Hamstring Strain

Infra Patellar Tendonitis (Jumper's Knee)

Calcific Tendonitis of the Rotator Cuff

Hallux Limitis (Stiff & Painful Big Toe)
Is Radial Shockwave a New Therapy?
Yes and no.  Until the introduction of Radial Shockwave, therapeutic treatment options for chronic tendonitis were typically limited to anti-inflammatory medications (NSAIDS) and basic therapeutic programs combining rest, stretching exercises and other conventional therapies, such as ultrasound, TENS, and soft tissue mobilization.
Occasionally, injections of corticosteroids were performed and, less often, surgical operations – all with the goal of reducing the pain to enable patients to return to activities and sports they enjoyed. Unfortunately, the traditional approach was not always successful and so a newer treatment for chronic tendonitis was investigated to bring greater relief to those suffering from chronic tendonitis pain.
In the early 1990's, European researchers developed and administered a focal point shockwave with modified kidney stone lithotripters over chronically scarred and calcific soft tissue.  Not only was the application cumbersome (as the devices were not designed for arms and legs!), the focal point application was so painful that patients had to be given anaesthetic in order to tolerate the treatment.  And not surprisingly, the results were not optimal either.
It soon became apparent that treatment with lower energy, spread-beam (radial) shock waves, with equipment designed for upper and lower extremities, would be better tolerated and yield more effective outcomes.   In turn, Radial Shockwave treatment units were produced for the new millennium.
When did Capilano Begin Offering Shockwave?
Capilano Rehab had been tracking Shockwave Therapy research since the mid-1990's, and when the high-quality low-energy RSWT treatment units became approved and available in Canada, Capilano invested in a state-of-the-art Swiss-Dolorclast® RSWT system. 
Since then, there have been continual upgrades to treatment protocols and equipment and Capilano has kept abreast of the changes and has purchased additional RSWT equipment as it has become tested and available. 
For example, Capilano uses the new RSWT applicators that can now treat chronic upper hamstring strains more efficiently and effectively.
How Many Shockwave Treatments Might I Need?
Most patients require up to four (4) treatment sessions with a week pause between sessions.  Extremely severe problems or those with larger surface areas may require one or two booster treatments which may be administered at either a 6 week or 12 week follow-up appointment interval.
Do Technicians Administer the Treatments?
No.  At Capilano, only registered Physical Therapists who are trained in the technique administer your Shockwave treatments.  Not only is there a science, but there is also an art to the RSWT treatment.  Physical Therapists are university graduates, most of who have over 6 years of training, and who are uniquely skilled to diagnose and treat soft tissue injuries.
Do I Need A Doctor's Referral?
No.  A referral is not necessary but they are always welcome.  We enjoy working with your physician or other designated health provider in order to ensure your complete confidence and peace of mind.
Does the Alberta Health Care Insurance Plan Pay for the Treatment?
No.  Your private insurance plan may provide full or partial coverage but may require your Doctor's written referral first.  Interested patients will need to check with their private insurance to determine the specific coverage eligibility and requirements. Of course, we will help you as best we can to ensure you get the information you need.
Are Appointments Available?
Yes.  Call us today at 780-466-1104 for your complimentary, no obligation screen evaluation and let our modern treatments and old-fashioned care help you wake up to pain free living!
________________________________________________________________
Capilano Rehab Centre | Physical Therapy in Edmonton
Capilano Rehab Clinic physical therapists have provided state-of-the-art physical therapy, sports physiotherapy, back pain, WCB, accident, whiplash and injury rehab to clients in Edmonton for over 10 years.
5832 Terrace Rd
Edmonton, AB. T6A 3Y8
(780) 466-1104
Tags
achilles tendonitis, Chronic Pain, golfers elbow, hallux limitus, heel pain, heel spur, Jumper's Knee, Plantar Fasciitis, radial shockwave, Shockwave, shockwave therapy, tennis elbow