Voted "GOLD WINNER" Physiotherapy Clinic In Edmonton Region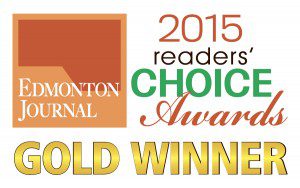 What a pleasant surprise and an amazing ride we are sharing together. In 2015 we were the recipients of an amazing honor. We were recognized by the Edmonton Journals' Readers Choice Awards as the "gold winner" in Edmonton. You can read the special section here.  The Edmonton Journal explains the process that they utilize to pick the recipients in the article. They state a primary goal of the publication is "fairness." We consider this to be important because it is an honor bestowed upon us by the public and not a small subset of people who make up an awards panel.
Our Official Response
"We would like to extend a thank you to all of you who took the time to select us for the distinction of the Edmonton Journals' Readers Choice Awards Gold Winner for the second year in a row. It is our privilege to treat such amazing people in our communities.
We are most grateful that amongst the many choices that you have for the care of your most precious commodity. For your physiotherapy, many of you have chosen us to help you feel and perform your best in Edmonton and St. Albert. We can't wait to keep your trust and earn your vote again in 2016."
Our Extended Response
While we are certainly not in this business for the recognition, we are humbled that you have experienced our unique style as we bring health and wellness to our communities. We continue to strive to make a difference beyond the walls and curtains of our clinics. Ours is a profession that requires a significant amount of trust. The best way to determine if we are meeting our promises to our patients is by seeing them in the community prospering. The Readers' Choice Award is a reflection of those who were willing to take the time and recognize that trust and the benefits that they derived from being one of our many amazing patients.
Ultimately, we love what we do and who we get to help. We love to work, play, learn, relax, shop and live in our communities. We love being physiotherapists and treating our patients like they are family. Our patients are the best and we believe we have pretty good lives because of you.
On behalf of all of our partners and staff at Leading Edge thank-you. You are truly the gold in this award.
Sincerely, Grant Fedoruk
Tags
Voted best physio in Edmonton, Voted best physiotherapy in Edmonton