Capilano Physiotherapy Sponsors Silent Sand
Capilano Rehab Physiotherapy Clinic in Edmonton is a proud sponsor of the Silent Sand Beach Volleyball Event.
Canada's Deaflympic Men's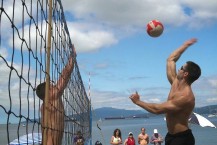 Volleyball team will compete on level playing sand alongside other beach volleyball guys in a unique tournament.  Players will have their hearing temporarily restricted (using Mp3 players and ear muffs) and will have to rely solely on their vision.
Silent Sand runs Thursday, July 4th, 6-10pm at the 6 Pack Indoor Beach in Richmond, B.C.   
Deaflympics in Bulgaria
Capilano Rehab Clinic also is a proud supporter of the Team Canada Men's Deaf Beach Volleyball team who will be competing in the Deaflympics in Sofia, Bulgaria from July 26 to August 4, 2013.
For over a decade, Capilano Physiotherapy has been providing sport physiotherapy services to elite and recreational volleyball athletes of all ages and sizes.  If you have any volleyball related sprains and strains, call Capilano Physical Therapy Clinic in Edmonton at 780-466-1104 today.
Tags
sport physiotherapy, Sports Injuries