Free Parking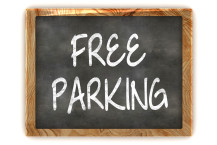 In addition to being excellent at what we love doing, one reason many patients appreciate attending Capilano Rehab Centre is that there is FREE Parking.  And plenty of it!
Whether you require Spinal Decompression, Radial Shockwave, Massage Therapy, Custom Orthotics or any of our other advanced therapeutic and sport therapy programs, you do not have to pay for parking.
No parkades.  No parking fees.  No lost parking tickets.  No deposits.  No hassle.  Just a little extra money in your jeans.  Plus, you won't have to walk blocks and blocks just to get through our front door.
Capilano is open Monday to Friday from 7:00 am to 6:00 pm.  Whether you have sustained a soft tissue injury like a sprained knee or are suffering from chronic back pain, Call Capilano today at 780-466-1104 and let us help you wake up to pain free living!