Untie Those Painful Knots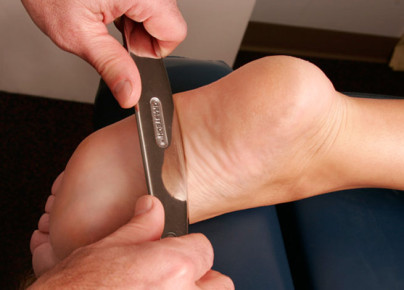 Graston is an innovative physical therapy technique used by physiotherapists to treat soft tissue injuries. It enables physios to address pain management by reducing injury, scar tissue, pain and fascial restrictions. Muscle knots are formed when injured tissue and fascia heal improperly and scar tissue-like fibers forms. Using Graston instruments, physical therapists can restart the  body's healing process, and bring new nutrients and blood to the area which allows the body to naturally heal.
Graston is performed by physical therapists who have been specifically trained and certified in the technique. It utilizes specially designed stainless steel instruments to detect and effectively treat conditions such as back pain, neck pain, arm pain, leg pain, tennis elbow, golfers elbow, knee pain, joint pain, and sport injury.
Graston Physical Therapy Technique can help Untie Muscle Knots
Physical Therapy with Graston Technique addresses muscle tightness, acute and chronic pain.  At Capilano Rehab Centre physiotherapy clinic in Edmonton, we address pain management as a whole and incorporate physical therapy and Graston Technique  into your treatment plan in order to heal your injury without any use of drugs or medication.
There are many common sites where soft tissue can have scar tissue-like adhesions from muscle, joint pain, fascia, and ligaments anywhere along the path of a nerve. Releasing this compression or impingement can safely help many cases of numbness and tingling where surgery is not required.   Graston Technique treats the cause of the pain without masking the symptoms with medication.
Physical therapy treatment is used to heal the body as a whole because the body is a system of nerves, bones, muscles, and joints.  Back pain and neck pain are intimately related to nerve pain, joint pain, muscle pain and proper alignment as they all function of co-exist together.
Injury must be looked at multiple levels of the body's system in order to relieve pain and reestablish proper function.  A combination of conventional Physical Therapy and Graston Technique is vital for achieving this goal.    
Graston Physical Therapy Technique for Various Kinds of Pain
Our registered physical therapists use Graston Technique to combat various kinds of pain.  The Graston Technique (GT) tools enhances the physiotherapist's ability to detect pain, injury,  fascial adhesions and restrictions.  The use of Graston Technique has been shown to achieve positive outcomes in treating both acute and chronic conditions, including:
Cervical sprain/strain (neck pain)

Lumbar sprain/strain (back pain)

Carpel tunnel syndrome (wrist pain)

Plantar Fascitis (foot pain)

Lateral epicondylitis (tennis elbow)

Medial epicondylitis (golfers elbow)

Rotator cuff tendonitis (shoulder pain)

Petellofemoral disorders (knee pain)

Achilles tendonitis (ankle pain)

Fibromyalgia

Scar tissue

Trigger points

Shin splints
If you are suffering from any of the above conditions, the Graston certified physiotherapists at your Edmonton Physical Therapy Clinic, Capilano Rehab Centre, can help. Give us a call at 780-466-1104 today to book your appointment. Heal better and recover faster with Graston.
________________________________________________________________
Capilano Rehab Centre | Physical Therapy in Edmonton
Capilano Rehab Clinic physical therapists have provided state-of-the-art physical therapy, sports physiotherapy, back pain, WCB, accident, whiplash and injury rehab to clients in Edmonton for over 10 years.
5832 Terrace Rd
Edmonton, AB. T6A 3Y8
(780) 466-1104
Tags
arm pain, Cervical sprain, featured, Fibromyalgia, full-image, golfers elbow, Graston, joint pain, knee pain, leg pain, Lumbar sprain, Petellofemoral disorders, Rotator cuff, Shin Splints, sport injury, tennis elbow