Shock Away Your Pain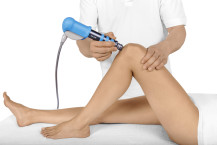 Radial Shock Wave Therapy® (RSWT) is a state-of-the-art, gentle & effective method for fighting chronic pain and insertion origin tendonitis. RSWT works without the use of x-ray equipment or drugs.
Capilano's Swiss Dolorclast Shockwave Therapy program has delivered significant pain relief treatment results for chronic heel pain, calaneal spurs, plantar fasciitis, tennis elbow, golfer's elbow, shoulder pain, hallux rigidus (painful & stiff big toe), as well as Achilles tendinitis.
Radial shockwaves are high-energy acoustic waves. They are transmitted through the skin surface by the Swiss Dolorclast applicator and spread radially into the distressed tissue and/or calcification. RSWT stimulates the body's natural self-healing forces and therefore is well tolerated.
Most people require only four(4) RSWT treatment sessions, each one taking about fifteen (15) minutes.
Treatments are performed by certified Physical Therapists who are university graduates with extensive and unique training in the assessment and treatment of chronic soft tissue problems.
What Does RSWT Treat?
Shockwave therapy is non-surgical, non-invasive, involves no time off your feet, and best of all, no anesthetic is required.  The following problems have responded well to RSWT:
Plantar fasciitis/Calcaneal spur/Heel Pain

Tennis Elbow

Shoulder Pain (Calcific tendinitis)

Achilles Tendinitis

Tibial Edge Syndrome

Jumper's Knee(Patellar Tendinitis)

Proximal IlioTibial Band Syndrome

Hallux Rigidus (Painful & Stiff Big Toe)

Chronic Trigger Points
The Swiss-made RSWT unit used by Capilano Rehab Centre consists of a control unit, a treatment handpiece, and an applicator. The shockwave is pneumatically generated inside the treatment hand-piece. The tip of the applicator on the hand-piece emits the shockwave that disperses radially (spreads out) into the treatment area. To minimize transmission losses in the layer of air between the applicator and the skin, contact gel is used to conduct the acoustic wave.
Who Performs My Treatments?
At Capilano Rehab Centre, only registered Physical Therapists perform your RSWT treatments. These university-trained professionals who, are licensed with the College of Physical Therapists of Alberta, are uniquely qualified to treat chronic tendinitis with RSWT.
Capilano is an active member of the International Society of Medical Shockwave Treatment.
Are You a Candidate for Shockwave?
The best results from RSWT treatments has been with clients who have had chronic tendinitis pain for over 3 months and who have who have failed to respond to at least two or three other conventional treatments. These therapies include, but are not limited to:
soft tissue mobilization

night splints

taping

orthotics

cortisone injections

anti-inflammatory medication

stretching exercises
If you are uncertain as to your suitability for the RSWT program, please call Capilano at (780)-466-1104 to schedule a complimentary screen examination. You do not require a medical referral to do so.
How long does a Shockwave session take?
A Radial Shockwave (RSWT) treatment takes about 15 minutes, and the protocol requires that the patient have a series of up to four (4) treatments at one-week intervals. RSWT treatments are always administered by a registered Capilano Rehab Centre Physical Therapist who is trained in the technique.
How does RSWT work?
There are a couple of theories as to how RSWT works. It is thought that the shock wave takes a chronic problem and turns it back into an acute problem thus creating an increased flow of blood to the area (increased inflammation) in an effort to heal the affected tissue. Healing effects include bone and tendon regeneration, increased blood vessel growth and a chemically induced decrease in pain and sensitivity of the pain receptors.
How Effective is Shockwave?
A recent study of one hundred fifty (150) patients assessed the clinical safety and effectiveness of shock wave therapy, (RSWT) for the treatment of plantar fasciitis. The results were as follows: 56% of patients reported success at 3 months and 94% success at 12 months post-treatment. Multiple published studies have shown that more than half of patients have resolution of symptoms without recurrence after RSWT treatment.
Although some people will feel relief after one treatment, it may take up to 12 weeks or more to experience the full benefit of RSWT.
How Much Does it Cost?
Capilano offers a three(3)-treatment session package for a single injury site to patients for $450 (CAN). This includes a summary report to be forwarded to your doctor upon your request, and any additional booster treatments (up to a maximum of two) that may be necessary.
Because the low-energy RSWT is a newer treatment technique, it is not covered by the Alberta Health Care Insurance Plan. Some private insurance plans may provide full or partial coverage but may require your Doctor's referral first. Interested patients will need to check with their private insurance to determine coverage eligibility and requirements.
________________________________________________________________
Capilano Rehab Centre | Physical Therapy
Capilano Rehab Clinic physical therapists have provided state-of-the-art physical therapy, sports physiotherapy, back pain, WCB, accident, whiplash and injury rehab to clients in Edmonton for over 10 years.
5832 Terrace Rd
Edmonton, AB. T6A 3Y8
(780) 466-1104
Tags
Bursitis, featured, full-image, Jumper's Knee, Musculoskeletal Pain, Plantar Fasciitis, radial shockwave, Rotator cuff, Shockwave, Tendonitis, tennis elbow