Grey Cup Celebration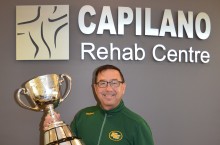 Capilano Rehab Centre continues to celebrate the Edmonton Eskimo Football Clubs 2015 Grey Cup Victory!  We have been a long-time EE fans and season ticket holders and are so glad that the boys brought the cup back to where it belongs: the City of Champions.
For over 20 years, Capilano's Sports Physiotherapy team has enjoyed treating the sports injuries of elite and recreational athletes. We have successfully helped NHL, CFL, WHL, Olympians, Team Canada, CIS, ACAC, and high school athletes overcome their injuries and return to action quickly and safely.
In addition to basic physiotherapy, Capilano also offers other helpful sports injury recovery services including:
Concussion Care

Therapeutic Sports Massage

Spinal Decompression

Radial Shockwave

K-Laser

Graston Technique

Biodex Isokinetic Testing
If you have a sports injury, call Capilano Rehab today at 780-466-1104 and let us help you wake up to pain free living!
________________________________________________________________
Capilano Rehab Centre | Physical Therapy Capilano physical therapists have provided state-of-the-art physical therapy, sports physiotherapy, back pain, WCB, accident, whiplash and injury rehab to clients in Edmonton for over 10 years.
5832 Terrace Rd Edmonton, AB. T6A 3Y8
(780) 466-1104
Tags
sport injury, sport physiotherapy