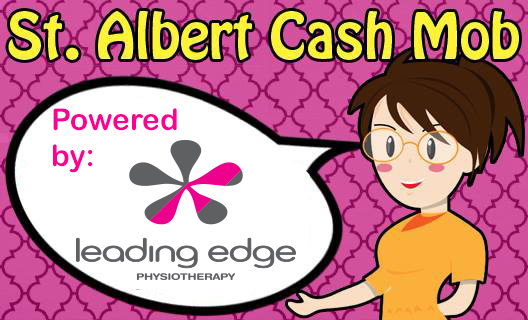 What is the St. Albert Cash Mob?
Yep! It's us again!
Heidi Fedoruk from Leading Edge Physiotherapy is proud to lead St Albert's Cash Mob. We are proud to be a part of our amazing communities, we want to support other local businesses and we love to shop! This makes a great combination for making a difference locally.
What is a cash mob?
A cash mob is a way for consumers to support local, amazing independently owned businesses. The chosen business benefits through chatter, publicity, and more importantly, $$$. Once a month, on dates to be announced, we will visit a local business as a group. Businesses are chosen by feedback and input from the community. The business is the only one who knows that they are being mobbed. Even I don't know as Heidi likes to keep me in the dark like everyone else. This is part of the appeal of the cash mob as it can vary from a liquor store to a gift shop to a bookstore. Cash mobs were made popular across North America since starting in Buffalo New York. We love to be original but unfortunately we can't take credit for coming up with the concept.
There are 3 rules to cash mobbing:
1. Spend at least $20
2. Meet or bring new people
3. Have fun!
What has St. Albert Cashmob achieved?
We are now in our fourth season and have stimulated over $90,000 in economic impact to our community. All of this impact has been achieved $20 at a time. We have brought together a group of people who enjoy spending time together and who often arrive early to visit at our meeting points. Our meeting points are also small businesses who benefit from the recognition they gain and from the mobbers who get together there.
Where did the idea come from?
Heidi and I read about a cash mob in the United States that was making a huge impact on its community. We thought about our amazing community and our patients interest in being involved with community events. We simply thought that we could make a contribution to the community in a similar way. Heidi will admit that she loves to shop and we all love to connect with the community. We believe that being locally owned matters and there is no better way to show it than to help other locally owned businesses. Add a dash of fun to the equation and the St. Albert Cashmob was born!
How can you get involved?
Follow Heidi's Cashmob on twitter or facebook. This is how we let people know the location of the next cashmob meeting point. If you don't have access to either of these, you can also sign up for our newsletter which also will provide the location and dates of the next meeting point. Show up for a cashmob with $20 and shop with us. It is really that simple. Here are the links to our cashmob sites so that you can find out the next location:
Some final thoughts on shopping locally:
There are so many benefits from shopping locally. Being locally owned and operated we certainly want to get the word out. Here are some of the advantages to the community, economy and the world that can be derived from supporting locally owned businesses:
 It's good for the environment: Bringing goods from afar generally requires using more energy than transporting goods locally, and some environmental advocates see this as a serious environmental threat. Transportation contributes to environmental contamination in addition to the pollution caused by chemical inputs in the growing phase. Small-scale growers tend to be more environmentally friendly because industrial-sized agriculture uses genetically modified crops, monoculture production, and chemical fertilizer-intensive processes to grow crops—practices that local farmers typically avoid. https://en.wikipedia.org/wiki/Local_purchasing
It's good for the economy: Studies have shown that if you spend $100 at a big box store, only $13 stays in your local economy.  If you spend that same $100 at an independent locally owned store, $48 stays within your community.
It's good for the community: Shopping locally helps to build on the notion that we are all in this together. Having a sense of sharing and contributing to one another in today's day and age is something that must be explored. We must continue to connect with each other and contribute to one another's well-being. Sharing coffee and meeting new people is how communities become stronger and how we can add meaning to our daily interactions.  You are supporting a family in your community, not an unknown uber rich CEO on his yacht.
It's good for you: Seeing the impact of shopping locally personally, I can attest to the sense of feeling good about my purchases from a deeper sense than the material gain it produced. In addition, I have gotten to know other business owners personally and have made lasting friendships that the larger corporations are simply unable to deliver. I get a level of personal service from the locally owned businesses that I frequent that is above and beyond. Get to know the shop owner and you will see the same benefit.
Special thanks..
to the many local businesses in the community who have joined our cause and contributed in so many ways. Many of our past mobbed businesses contribute with prizes and promotions that make each future mob unique. Also, thanks to the St. Albert Chamber of Commerce who are making 2016 an exceptional year for local business.
Still interested in more? Check out the great article written by Glen Cook in the St. Albert Leader about this Leading Edge Physiotherapy initiative! http://www.stalbertleader.com/2012/09/05/cash-mob-ready-to-descend-on-businesses/
In Health, Grant Fedoruk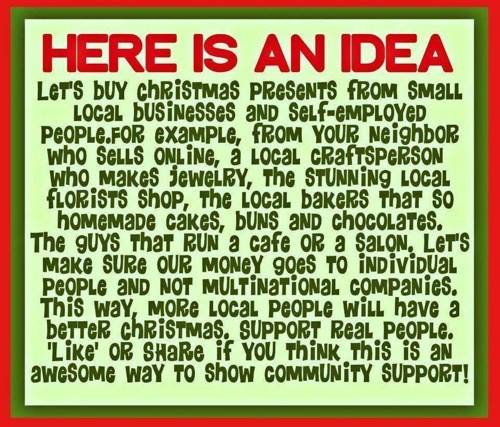 Tags
Cashmob, Cashmob St. Albert, Glen Cook, Leading Edge Physiotherapy in the Community, shop local, St. Albert Cash Mob, St. Albert Chamber of Commerce