Is it Time for New Orthotics?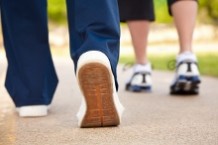 For over a decade, Capilano Rehab Centre has been prescribing and dispensing custom foot orthotics for adults, teens, and athletes.  We have provided comfortable and lightweight orthotics for dress, casual, and a variety of athletic footwear, including soccer cleats and hockey skates.
How Long Do Orthotics Usually Last?
Ideally, your orthotics should be re-assessed every two to three years.  Not only do feet change over time, but weight changes, heath problems, activity level variation, and simple wear and tear can affect the fit that you are getting from your orthotics.  Simply stated, you may not be getting the same orthotic support as you were at the time of dispensing.
What are some features of Capilano's orthotics?
Most of Capilano's Footmaxx orthotics are made from semi-rigid materials and this allows a small amount of flex and movement for your feet and are therefore often tolerated better than hard, rigid appliances.  Here are some other Capilano features:
Certified Physical Therapist

No referral needed*

Custom fit orthotic from a 3-Dimensional digitizing scan or cast

Quick turnaround time from order to fitting

No obligation fit check-up(s)

Additional foot and ankle pain treatment services available on site, including: Physical Therapy, Graston Technique, Kinesio-taping, IMS (Gunn Certified), and Radial Shockwave Therapy.
*(unless your insurance plan requires a doctor's prescription and/or a gait report)
What Can I Do?
If you feel that your orthotics are doing more harm than good, or want a check on their current status, please call Capilano at 780-466-1104 to arrange your no obligation check-up today.
________________________________________________________________
Capilano Rehab Centre | Physical Therapy in Edmonton
Capilano Rehab Clinic physical therapists have provided state-of-the-art physical therapy, sports physiotherapy, back pain, WCB, accident, whiplash and injury rehab to clients in Edmonton for over 10 years.
5832 Terrace Rd
Edmonton, AB. T6A 3Y8
(780) 466-1104
Tags
ankle pain, custom orthotics, foot pain, Footmaxx, Orthotics, prescription orthotics