New Pregnancy Massage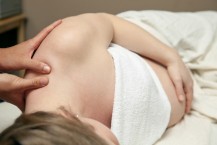 Capilano Rehab is delighted to offer Edmonton a brand new massage therapy service designed specifically for expecting and post-partum mothers.
Pregnancy and postpartum massage can reduce your physical symptoms and help you cope with stress.  Because it supports your physical health and vitality, therapeutic massage can help you more easily adjust to the many changes in your body.
Perinatal and Pregnancy Massage Benefits
The benefits of Capilano's Pregnancy Massage Program include:
Tranquil relaxation and reduced stress.

Relief from muscle cramps, spasms, and myofascial pain, especially in the lower back, neck, hips, and legs.

Increase in blood and lymph circulation, which can reduce swelling.

Reduces stress on weight-bearing joints.

Helps ease labor pain and enhances adjustment to body changes.

Enhances the pliability of skin and underlying tissues.

Ease constipation, gas, and heartburn as general relaxation stimulates intestinal movement.
Certified Massage Therapists
Capilano Rehab Centre has two registered massage therapists with Diploma's from Grant MacEwan University, and certification in perinatal and pregnancy massage. They have experience in treating both expecting and post-delivery moms. To book a pregnancy massage with one of our certified Massage Therapists, please call Capilano at (780) 466-1104.
Don't Forget
While perinatal and pregnancy massage can help you, it does not completely relieve all the discomforts of pregnancy. After your massage, the hormonal changes are still happening, and the stresses of your life are still there. And, massage does not replace the need for appropriate medical and prenatal care.
Tags
Massage therapy, perinatal massage, pregnancy massage