Radial Shockwave for Heel Pain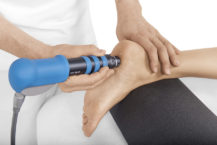 Do you suffer from chronic heel pain?  Is walking barefoot on hardwood floors almost impossible?  Do the first few steps after sitting or standing up in the morning stab like crazy?  If so, you may benefit from Shockwave Therapy.  Radial Shockwave Therapy (RSWT) is a highly effective, non-invasive treatment protocol used for the treatment of chronic heel pain.  
What Can Cause Heel Pain?
A leading cause of chronic heel pain is plantar fasciitis.  The fascia is a visco-elastic band on the bottom of your foot that connects to your heel.  Most often due to biomechanical issues with your foot and ankle, and compounded by repetitive stepping or bad footwear, the fascia can be strained and becomes inflamed, granulated, and adherent.
What Are Shockwaves?
Radial shockwaves are mechanical, non-electric micro sonic booms that work by breaking down scar tissue-adhesions, increasing circulation, stimulating new blood vessel growth and driving stem cell migration to the affected area.  Shockwaves have been clinically shown to be a viable treatment option for chronic heel pain, with virtually no side effects.
How Many Treatments Do I Need?
Radial Shockwave Therapy sessions are short, most not lasting more than 10-15 minutes.  All Shockwave treatments at Capilano are provided on a one-to-one personalized basis by registered physical therapists, who have had a minimum of six years of university training.  Most heel pain conditions are resolved after 3-5 RSWT sessions,  And best of all, there is no down time associated with the treatment protocol.  
How Long Has Capilano Offered Shockwave?
Capilano Rehab has been a pioneer and local leader of Radial Shockwave Therapy in the Edmonton and surrounding area for the past fifteen years.  We have performed thousands of shockwave treatments and helped thousands of patients wake up to pain free living.  If you have heel pain, call Capilano today at 780-466-1104.  Let us help you walk away from pain!
________________________________________________________________
Capilano Rehab Centre | Physical Therapy Capilano physical therapists have provided state-of-the-art physical therapy, sports physiotherapy, back pain, WCB, accident, whiplash and injury rehab to clients in Edmonton for over 10 years.
5832 Terrace Rd Edmonton, AB. T6A 3Y8
(780) 466-1104
Tags
Edmonton Radial Shockwave, radial shockwave therapy