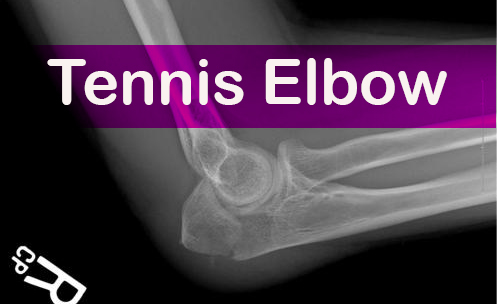 Tennis Elbow doesn't have to come from playing tennis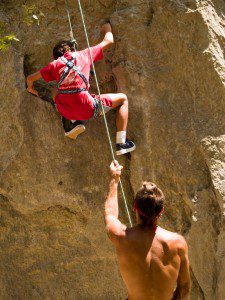 It may be called tennis elbow, but these climbers and even people doing handstands are just as likely to suffer from this condition.  It can occur to many athletes and even indiviudals who have relatively inactive jobs, like typing and mousing on a computer.
Pain on the outside of the elbow is often caused by a condition called lateral epicondylitis.  In this condition, better known as tennis elbow, the pain is initially caused by inflammation at the tendon's attachment of the muscles that raise the wrist.  Over time, without resolution of the pain, the problem becomes one more resistant to home management. It is called tendinosis.
Why did I get this?
Contrary to the common name, tennis elbow can occur for several reasons and from several different activities.  Stresses and strains such as those that occur during tennis, golf, squash, lifting or typing, cause microtearing at the attachment of the tendon to the bone.  Since these muscles are involved with most daily activities, they become very tight and place a constant pull on the elbow making it difficult to heal.
When you bend your wrist back or grip with your hand, the muscles on the back of your forearm (extensors) contract. The contracting muscles pull on the tendon on the outside of the elbow. These forces can build up with repetetive activity or with sudden massive contraction (like trying to cream a backhand down the baseline).
Why won't it go away?
Over time the body's inability to deal with the initial inflammation can cause the body to produce different cells.  Instead of inflammatory cells, the body produces a type of cells called fibroblasts.  When this happens, the collagen loses its strength. It becomes fragile and can break or be easily injured. Each time the collagen breaks down, the body responds by forming scar tissue in the tendon. Eventually, the tendon becomes thickened from extra scar tissue.  The tendon no longer functions properly and pain persists, often even in the absence of activity.
How do I know if this is what I have?
Common symptoms of this condition are:
sharp pain directly on the outside of the elbow with activity
aching in the forearm at rest
weakness of the grip
Activities such as typing/mousing, gripping, wringing out towels and in some instances simply lifting a cup of coffee can be a painful chore.
Ultimately, in order to determine if this is the cause of your elbow pain, one must see a qualified medical professional (like us) for an acurate diagnosis.  However, if it hurts to raise your wrist backward against resistance, and you have tenderness over the outside of the elbow when you press against the bone, you likely have this condition.
Now that you know why you have pain on the outside of your elbow and why lifting your coffee isn't as appealing as it once was, it is time to deal with it.  Just hoping it will go away, unfortunately is not a recognized medical treatment.
As Always, in health Grant Fedoruk
This information is not meant to replace the advice or treatment of a qualified physician or physiotherapist.  It is meant for information only.  Please seek an assessment and discuss your treatment options with your caregiver prior to making a decision about your treatment path.
Tags
Chronic Pain, lateral epicondylitis, Leading Edge Physiotherapy, Scar Tissue, sports injuries in edmonton, sports injuries in st. albert, tennis elbow, tennis elbow edmonton, tennis elbow st. albert, why won't my injury go away?