The Gift Giving Season Has Arrived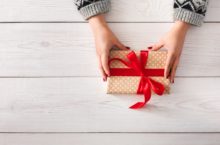 The countdown to Christmas is on!  To help take away some of the perfect gift shopping pressure off of Santa, check out some of Capilano's favorite holiday gifts:
Mediflow Water Pillow: custom night time neck support.  Helps the user get a comfortable night's sleep and can be adjusted to any patient's neck configuration.   The Mediflow pillow was ranked the best pillow in a John Hopkins Neck-Pain and Quality-of-Sleep study!
Massage Therapy Gift Certificate: personal muscle ache relief.  This is a great gift that says, "Slow down and enjoy something awesome for yourself", or , "Use this after your insane cross-fit competition."  The therapeutic benefits are significant no matter what type of lifestyle a person leads!  
Sockwell Compression Stockings: affordable achy leg alleviation.  Whether you work retail, in a machine shop,  hospital, on a construction site, these are the socks for you!  They are graduated compression stockings made out of Merino wool, are thermal regulated to be cool in the summer and warm in the winter, and are work dry.  Say goodbye to your tired and swollen feet!
Cherry Tree Comfort Bags: easy to use heat bags.  For soothing low back aches and pains or for curling up on a cold day with a hot chocolate and a book.  Cherry Tree comfort bags can be used hot or cold and come in a variety of sizes and fun colours!
Myofascial Release Ball: amazing stocking stuffers.  For people who are prone to muscle spasms, tension headaches, or tight muscles.  They are roughly the size of a tennis ball so they are great for travel, in your car or for use at home.  And yes, they fit perfectly in stockings!
All of the gifts are currently in stock.  Stop by Capilano at your convenience and let us help you help Santa this Christmas!  
________________________________________________________________
Capilano Rehab Centre | Physical Therapy Capilano physical therapists have provided state-of-the-art physical therapy, sports physiotherapy, back pain, WCB, accident, whiplash and injury rehab to clients in Edmonton for over 10 years.
5832 Terrace Rd Edmonton, AB. T6A 3Y8
(780) 466-1104
Tags
Massage therapy, Medical Compression Stocking