BIODEX Muscle Imbalance Testing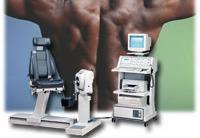 Capilano Rehab Centre is pleased to offer the advanced BIODEX® Multi-joint Isokinetic testing and rehab system that provides consistent and accurate objective data addressing muscular imbalances in both the upper and lower extremity injuries.
BIODEX Isokinetic testing provides specialists, physicians, therapists and patients valuable information about strength deficits and muscle imbalances that may predispose a particular joint to further injury.
Information obtained through the testing gives physical therapists, trainers, and athletic therapists baseline objective data to compare with follow-up testing upon completion of their injury recovery and rehabilitation program.
Capilano has performed BIODEX testing on NHL, AHL, WHL, Pro-football, Pro-Basketball, Olympians, Team Canada, CIS, ACAC, and high school athletes in order to help them get back to action quickly and safely. 
Capilano also does post-surgical and injury testing on knees, shoulders, and elbows at the request of physicians or third-party payors.
Call Capilano Rehab today at 780-466-1104 to book your appointment.
________________________________________________________________
Capilano Rehab Centre | Physical Therapy Capilano physical therapists have provided state-of-the-art physical therapy, sports physiotherapy, back pain, WCB, accident, whiplash and injury rehab to clients in Edmonton for over 10 years.
5832 Terrace Rd Edmonton, AB. T6A 3Y8
(780) 466-1104
Tags
BIODEX, isokinetic testing, sport physiotherapy, Sports Injuries