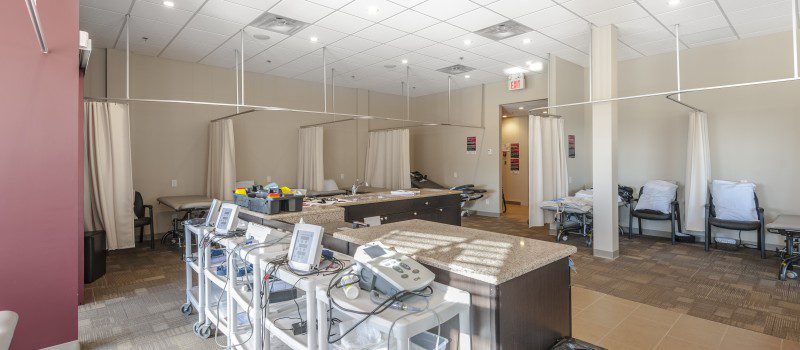 Now Open In Windermere
It seems like only yesterday that we opened our first location in St. Albert. From our small corner of the world, we have enjoyed sharing our happiness, skills and technology with so many. When you are having as much fun as we are, it only makes sense to keep on having fun. Hence the opening of our 3rd location. Joining us are two amazing physiotherapists, Jonathan Tong and Justin Koch. These guys, with their own flare and style, will guide you or your family through recovery, pain and sometimes the unknown.
Good Things Keep Growing
These amazing individuals have arrived in the Winderemere community to carry on the giving and caring spirit of Leading Edge. We searched the city for two skilled physiotherapists who shared our philosophies, vision and spirit. They have the same drive and determination that you can count on to get you through an ordeal. They have the same drive and determination to give back in our community. They have the same drive and determination to make the whole of the process fun!
Officially opened Monday April 6, 2015 you can book now by calling 780-439-1138
Location: 5540 Windermere Boulevard – We are located in the neighbourhood of Upper Windermere by turning west onto Windermere Boulevard in a new beautiful professional building called Windermere Plaza.
Hold on… There is more to the story…
In addition to these two Leading Edge assets, let me introduce you to some of our latest technology being introduced at Leading Edge Physiotherapy in Winderemere. The Alter-G treadmill will be the first of its kind to grace Edmonton and Northern Alberta.
Leading The Edge Of Technology: Introducing Zero-Gravity to Your Recovery
The Alter-G looks and acts like a bounce castle for the lower body. Put on our neoprene shorts which have a small skirt attached at the waist. T(The skirt is lined with a zipper) Step onto the treadmill and inside a hole in its plastic casing… zipper in so that you are from the waist down encased in an airtight plastic bag. The treadmill will measure your weight, and you tell it how intense you want your workout to be. The Alter-G uses "unweighting technology" that can make you feel up to 80 percent lighter—so if you weigh 100 pounds, you could feel as light as 20 pounds on the treadmill. The machine actually inflates the plastic bag around your lower body to lift you off the surface of the treadmill. Start to walk or run and feel the effect of weightless exercise!
Here's NASA's glowing review of the anti-gravity treadmill:
"Professional and college sports teams across the United States feature the AlterG treadmill in their training facilities. Injured soldiers walk and run with the technology's assistance at military hospitals and rehabilitation centers. Seniors get essential exercise using the support the machine provides, as do people with bariatric weight issues who cannot normally support their own weight. The treadmill has been a proven option for neurological uses as well, including helping patients re-learn proper balance and gait and transition to independent movement after traumatic brain injury."
The research is already there… Check out the many peer reviewed articles on its effectiveness!
See you soon… Now with 3 locations and ever more Leading Edge Technology!
Tags
achilles tendinitis, Alter-g Treadmill, Alterg, Alterg Treadmill Edmonton, Antigravity Treadmill, Foot Pain, Grant Fedoruk, Heel Pain, Heel Spur, heel spurs, high ankle sprain, Jonathan Tong, Justin Koch, Leading Edge Physiotherapy, shin splints, Windermere Physiotherapy, Zero gravity treadmill edmonton