Five Things to Know About Whiplash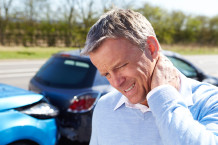 Icy roads are one of the leading causes of winter auto accidents in Alberta.  And unfortunately, whiplash is a common injury.  Capilano Rehab Centre's professional whiplash recovery team of Physiotherapists and Registered Massage Therapists can help you if you have sustained whiplash and/or low back strains secondary to motor vehicle collisions.
Whiplash Pain
Neck pain can be felt immediately following your collision or it might set in within a few days.  Besides neck pain, you could also have problems with upper back soreness, shoulder pain and even numbness and tingling into your hands.
After Your Collision
Once you have contacted your insurer to report your accident, you have ten (10) days to have an examination to determine the extent of your injuries.  Physiotherapists are Primary Health Providers under the provincial legislation governing auto accidents, and so you will want to have the physio of your choice assess you and complete an AB-2 report to send to your insurer as part of your claim. 
Depending on the extent and nature of your injuries, you may qualify for up to a maximum of twenty-one treatment visits (not just including physio but other health services such as massage) whereby you are not out of pocket for treatment costs and your insurer is billed directly.
Capilano's Whiplash Recovery Program
Capilano has achieved an outstanding reputation for the assessment and treatment of Whiplash Associated Disorders, both acute and chronic.  Capilano employs a gentle hands-on approach to treatment and recovery and also includes prescribed customized and personalized therapeutic exercise when and where it is applicable.
Capilano's Additional Services
In addition to our conventional physiotherapy services to treat whiplash pain, we have a highly skilled professional staff, with post graduate training and work in:
Graston® Technique

Certified Medical Acupuncture

Spinal Decompression Therapy

Vestibular (Dizziness) Rehabilitation

K-Laser™

Registered Massage Therapy

IMS (Intramuscular Stimulation)
Call Capilano If You Have Whiplash
If you have had the misfortune to be in a minor fender bender or a more serious collision, call Capilano Rehab Centre at 780-466-1104 today and let us help you get back on the road to pain-free living.
________________________________________________________________
Capilano Rehab Centre | Physical Therapy Capilano physical therapists have provided state-of-the-art physical therapy, sports physiotherapy, back pain, WCB, accident, whiplash and injury rehab to clients in Edmonton for over 10 years.
5832 Terrace Rd Edmonton, AB. T6A 3Y8
(780) 466-1104
Tags
car accident, Motor Vehicle Injury, neck pain, whiplash