Full Steam Ahead & It's Only March
We are so very privileged to live and work in Edmonton and St. Albert. We believe that with that privilege comes a level of responsibility.  Sometimes being a part of the community means supporting a local business or community organization. It doesn't always mean charity but it does mean being there for one another. What could be better than having fun and making a difference at the same time. Put all of this together and you will get a sense of what it truly means to be a part of our Leading Edge world.
Since the beginning of this year we have spent time among many amazing charities. Below is a snap shot of those organizations, businesses and charities we have supported. Please join us in sharing the amazing work that they are doing in our communities.
Christmas In January (20th)- MKT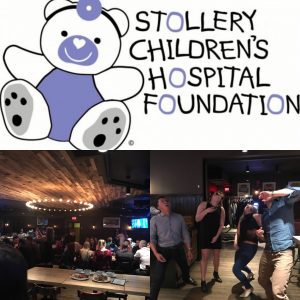 We celebrated our Christmas party in early January. What could this have to do with community you might ask? We are fortunate to have locally owned businesses like MKT who we can support for our larger events and in turn these businesses support the community as well. We choose specific companies like Century Hospitality Group who demonstrate a strong community obligation in their corporate values. Additionally, at this event we had an interactive Quiz night with the winners choosing the charity of their choice for a donation of $250. While the amount was not huge, the concept of encouraging our employees to give back and make a difference is as important as the sum. We can all make a difference and little contributions can accumulate to have a big impact. The charity that our winning team chose was the Stollery Children's Hospital Foundation. Well done Kathleen, Megan, Sadie and Antonia for your choice.

---
Edmonton Chamber Ball – January 27, 2018 – Rogers Place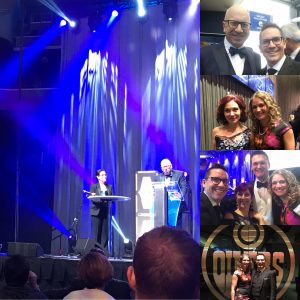 January 27th we were pleased to celebrate the incoming chair Mr. Len Rhodes as Chamber President. Len has had a huge impact on the City of Edmonton through his role as the President and CEO of the Edmonton Eskimos. Len and the Edmonton Eskimos have made a major impact on the Greater Edmonton Region and we couldn't imagine a better way to celebrate an evening than to welcome him as the new board chair. Wait, it actually got better. The formal program was capped by recognizing Greg Christenson for his contributions to the many communities that he is a part of…
Northern Lights Award Recipient
The Chamber Website had this to say: "This year the Chamber celebrated a true pillar in the Edmonton business community with their awarding of the Northern Lights Award 2017 Northern Lights Award to Greg Christenson, President and Co-Owner of the Christenson Group of Companies. Honoring, in a concrete way, those individuals and organizations that have made a positive and lasting difference in our community, we are pleased to welcome Edmonton business dynamo Greg Christenson under the Chamber Ball spotlight, as we joined in celebrating his incredible legacy of business success and philanthropic generosity."  We couldn't agree more. On a personal note, there is no capturing the amount that Greg does everyday both through his businesses and his time. He is truly a business person that we should all emulate.  We are so proud to call him a friend. He is one of the only people who can out-karaoke me!
---
The River City Practice – January 23,2018 with Lululemon – Fort Edmonton Footbridge
"It's not about you. It's not about him. It's about the effort, the grind and the sweat – even when you are outside on a snowy bridge." The River City Practice was created to get a group of guys together outside where we "practiced" more than fitness. It was for one another, for community and for building relationships among a group of people who appreciate the impact that a group can make when not acting solely for oneself. The evening finished with a visit at Browns Social House where connections were made that will outlast the benefits of any sweat that was left on the bridge.
---
Leading Edge Running Club & RunWild February 18, 2018 – WEM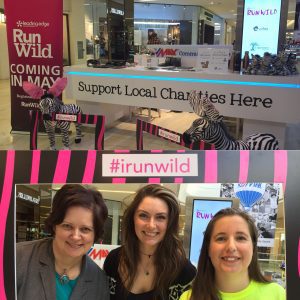 February 18, 2018, our not-for-profit organization hosted our charities of choice at a WEM Cares event at the RE/MAX Community Centre in West Edmonton Mall. The Zebra Child Protection Centre and the St. Albert Seniors Association were well represented by their volunteers as we had the good fortune of sharing their stories with shoppers throughout the day.
---
Did you know…
Leading Edge Physiotherapy operates a not-for-profit organization that carries out the activities of our various community charitable events? On top of the time and commitment that we each make, we also operate the Leading Edge Running Club under its executive director Jessica Gray. Leading Edge partners and employees form the volunteer committees of the organization. The payroll of the Leading Edge Running Club is paid for entirely through Leading Edge Physiotherapy in order to ensure that our sponsors and supporters can be certain that we are maximizing their contributions to our events.
---
YOUCAN Youth Services Comedy Night – River Cree – March 3rd, 2018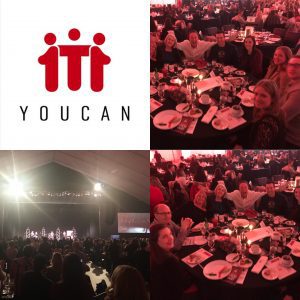 Leading Edge was proud to host a table at a night of learning, inspiration and laughter as we supported YOUCAN Youth Services. We knew very little about this charity until I was invited by Ken Franczek to get involved. We learned about this community organization and we agree that the work that they are doing is impactful. Through the stories of 3 amazing individuals who have made a massive change in their lives, thanks to YOUCAN, we learned what role this charity made in their lives. We were all impressed with their achievements and inspired by their hard work and the role that YOUCAN played in their transformations.
The organizations website states: "YOUCAN Youth Services is a non-profit charitable organization dedicated to assisting youth so they have the knowledge, support and skills to remove themselves from harm's way. We assist young people in transitioning into employment or back into education, reducing youth violence. We believe in a 50/50 attitude and approach when working with youth; we will work very hard for them, but we expect them to work very hard for themselves.
On a daily basis our outreach staff are dealing with youth homelessness, transient lifestyles, school issues, lack of employment, court support and criminality, addictions, gang involvement, and mental health. Our staff are committed to building strong relationships with youth while advocating ways to successfully navigate the complexity of high risk lifestyles. The work we do is crucial in the lives of the youth we work with. We will impact the Edmonton community one youth at a time."
---
Zebra Child Protection Centre Diamond Disco – March 10, 2018 –
l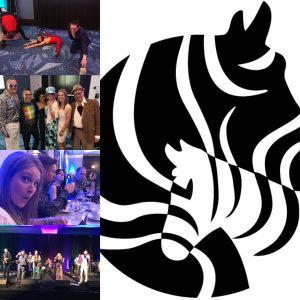 Dancing, dressing disco, eating amazing food and enjoying an evening with like minded people couldn't possibly be a good idea when you are tackling a subject like child physical and sexual abuse. Well maybe it is a good idea when you are celebrating the amazing work of an amazing charity and their successes. While the topic is hard to understand and even harder to talk about, the work that the Zebra Child Protection is doing must be shared and celebrated. Many who follow the charitable work that Leading Edge does in the community know of our commitment to children who have been impacted by abuse. We are proud supporters of the Zebra Child Protection Centre.
In an interesting twist to the night, along with a few others, I purchased a ride-a-long with EPS. It also included a visit to the K-9 unit and training centre where I might subject myself to a take down. I just have to figure out how to turn this into even more money for the Zebra Centre so stay tuned.
The event showcased a new "Truth Be Told" video that is meant to share the impact that the Centre has on these children and the positive difference that they are making. It highlights the types of events that lead to a child requiring the services that the Centre provides and offers a peak inside this amazing place. I love to remind people that the location isn't what makes the Zebra Centre tick, it is the people who share a common goal, compassion and caring for these children that does. When you watch the video, you should see the impact. We will share the video when it becomes available.
---
RunWild – Have you Signed up yet?
Our major event is May 6, 2018 – check out what it is all about OR
JUST REGISTER – This is definitely me begging you to help us raise money and awareness while getting people of all ages, families and community together in an active way!
---
Do we get tired? Yes we do!
Is it worth it? Do you even have to ask?
Let us know how we can help even more in the community. We can't always write cheques, but there are many other ways that we have learned that we can make a difference. At the very least you can share your story for us to tell others and that my friends is what a community is all about…
In health, Grant Fedoruk
Tags
Christenson Group of Companies, Diamond Disco, Edmonton Chamber Ball, Edmonton Eskimos, Stollery Children's Foundation, WEM Cares, YOUCAN youth services