Tired and Heavy Legs?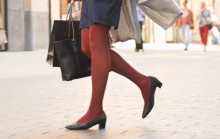 Are you suffering from heavy and tired legs?  Is the circulation in your legs giving you problems getting around?  Then try Capilano's Medical Compression Stockings for healthy legs.
Chronic Venous Insufficiency (CVI)
CVI occurs when your veins fail to efficiently return blood from your legs back to your heart.  It can lead to problems such as varicose veins, foot and ankle swelling, heavy and tired legs, aching, and leg cramping.
Don't Take Risks With Your Legs
Anyone can experience vein problems.  Standing or sitting for long periods of time at home or work, pregnancy, genetic predisposition, long air travel flights, and unhealthy lifestyle choices can increase your risk of CVI.
Get Back on Track With Compression Stockings
In addition to exercise and a healthy lifestyle, wearing medical compression stockings on a regular basis can also help alleviate CVI symptoms.  Capilano offers the new VenoTrain® Perfect Fit compression stockings. VenoTrain® stockings are attractive and comfortable. The not only look good but they feel good as they are made of breathable, microfibers that are soft on your skin.  And, they can get your legs back on track.
Call Capilano Today
If you have legs that are tired and heavy, or feet and ankles that are swollen, call Capilano today at 780-466-1104 for your appointment to see our certified compression stocking fitter.  
________________________________________________________________
Capilano Rehab Centre | Physical Therapy Capilano physical therapists have provided state-of-the-art physical therapy, sports physiotherapy, back pain, WCB, accident, whiplash and injury rehab to clients in Edmonton for over 10 years.
5832 Terrace Rd Edmonton, AB. T6A 3Y8
(780) 466-1104
Tags
Chronic Venous Insufficiency, Medical Compression Stocking