Natural Help For Low Back Pain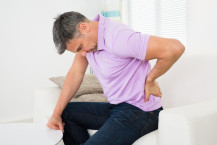 Low back pain is a bummer.  And it's even worse if it radiates into your actual buttock or leg!  Thankfully, natural help for your acute and chronic low back pain exists at Capilano Rehab Centre. 
Causes of Back Pain
Low back pain and sciatica can be caused by a variety of problems with your lumbar spine, especially the spinal motion segment.  This segment, also known as a functional spinal unit, includes two vertebral bones, the intervertebral disc between them, and their connection to one another at the facet joints.  An irritation or problem with any of these structures can cause lower back pain and/or pain that can radiate into your leg or can be referred to other parts of your body.
Common Kinds of Back Pain
Capilano uses an integrated and multifaceted non-surgical treatment approach for the following:
Degenerative Disc Disease

Sciatica

Bulging Discs

Facet Syndrome

Chronic Back Pain
Diagnosis of Back Pain
As with other treatments, your diagnosis is absolutely key to your recovery and restoration.  Your initial consult with one of Capilano's physiotherapists will include a comprehensive clinical examination to determine the underlying cause of your back pain. 
Treatment of Back Pain
We utilize a multifaceted treatment strategy that combines modern treatment and old-fashioned care.  Our low back pain solutions include some of the following:
Spinal Decompression

K-Laser

Therapeutic Exercise

Medical Acupuncture

IMS
Best of all, your back pain relief program is individualized and tailored to your problem and particular presentation.  We work smart and hard to ensure that your back pain is relieved and that you get back to bending, moving, and walking again.
If you have back pain, call Capilano at 780-466-1104 today and let us help you wake up to pain-free living!
________________________________________________________________
Capilano Rehab Centre | Physical Therapy Capilano physical therapists have provided state-of-the-art physical therapy, sports physiotherapy, back pain, WCB, accident, whiplash and injury rehab to clients in Edmonton for over 10 years.
5832 Terrace Rd Edmonton, AB. T6A 3Y8
(780) 466-1104
Tags
back pain, chronic back pain, low back pain, Sciatica